ACES Students Present at Smith School Global Showcase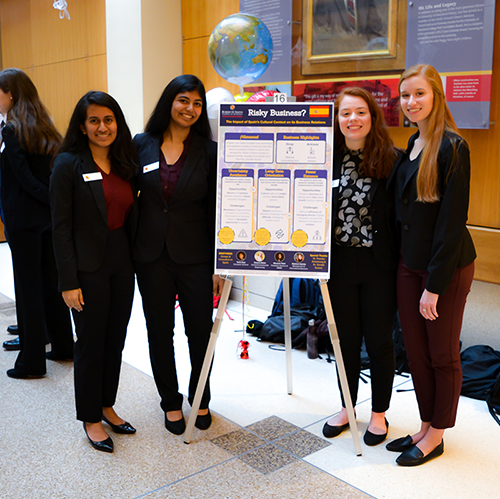 ACES students Mausam Patel and Tania Arya presented their research concerning business relations in Spain at Robert H. Smith School of Business's 2020 Global Showcase.
This showcase allowed students to present detailed posters on a variety of global-based research topics to a panel of judges. These posters were placed into five main poster categories: Comparative Business Analysis, Enterprise and Innovation, Effects of Culture on Business, Opportunities and Challenges for U.S. Businesses, and Digital Technology Transforming Business. Presenters in each category were judged on their overall knowledge, professionalism, and communication skills; one group from each category will be pronounced winner and given a $500 reward on Friday, February 14.
Patel and Arya are both sophomores in the ACES LLP, majoring in computer science. They completed their research for the Effects of Culture of Business category following their short-term study abroad experience in Spain over winter break.
"I always wanted to study abroad, and this research opportunity seemed like a good way to get that cultural experience and learn about design in a new environment," said Arya.
With their teammates, Victoria Miske (Civil and Environmental Engineering) and Madison Spiotta (Management and International Business), Patel and Arya completed Honors research with the university's Quality Enhancement Systems and Teams (QUEST) program. This three-year program for University of Maryland undergraduates studying business, engineering, and/or science features a five-course curriculum focuses on experiential learning through multidisciplinary, team-based, and hands-on projects.
Thus, when the teammates traveled to Spain for the short-term study abroad experience, they conducted research on the country's cultural context and its impact on business relations. In Spain, the students visited multiple business locations and sites of cultural significance. They then judged these businesses based on uncertainty avoidance (the degree to which certain measures are taken to avoid risk), long-term orientation (the focus on maintaining traditions and norms when considering change), and power distance (the extent to which less powerful members accept unequal power distribution).
However, win or lose at the Global Showcase, Patel and Arya recognize the importance of expanding boundaries and reaching across comfort zones, even for just eleven days.
"I highly recommend short-term study abroad for any student in any major," said Patel. "It really was a life-changing experience in only two weeks."
Arya shares this feeling of personal impact alongside Patel: "It sounds cheesy, but I really did come out of this experience a new person."
Published February 13, 2020