Meet Cassandra Harrington: New Assistant Director of ACES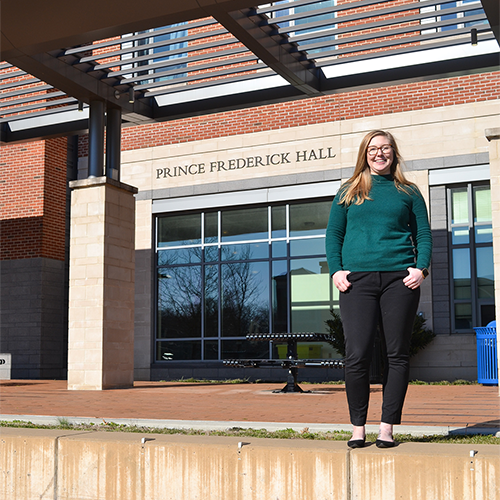 Cassandra Harrington is a higher education professional, an assessment and evaluation specialist, and the new Assistant Director of ACES. She's also a sushi-lover, an avid reader, and a Jeopardy-enthusiast.
Hailing from a central Pennsylvania hometown, Harrington had no plans to spend the rest of her career at various institutions of higher education throughout the United States. When she applied to be a resident assistant her sophomore year at Shippensburg University, however, the course of her professional life was forever changed.
"I actually didn't want to be an RA, but it was good money and free housing and my parents convinced me that as a first generation college student it was what I should be actively doing," said Harrington. "I thought I was going to be a lawyer but then I became an RA and loved it so much that I decided that I wanted to pursue a career in student affairs."
From there, this passion for student affairs in higher education led her to multiple universities across the United States. First, Harrington served as an Assistant Hall Coordinator when she was a graduate student at the Indiana University of Pennsylvania, later moving on to be a Hall Coordinator at both the University of Delaware and the University of Iowa once completing her Master's degree.
At each of these positions, Harrington was confronted with a number of new experiences, helping her to grow as a higher education professional: "During that time, I gained a lot of amazing relationships with students and staff, but also a lot of really cool skills in a lot of different areas including assessment and evaluation and curricular planning," she stated. "So I decided to take that show on the road to the College of Public Health at the University of Iowa where I served as their Program Assessment and Evaluation Coordinator. I did a lot of their accreditation and student satisfaction surveys and diversity, equity, and inclusion climate surveys which was really neat, and I got to work with faculty in an academic affairs roles."
However, her interest in and experience with evaluation and program planning is not unrelated to her new position at ACES. In fact, this experience is something she plans to bring to the table each day as assistant director.
"I'd like to bring my program planning knowledge to make sure that this experience is everything the students want it to be and everything that we know is good for them, too. Another piece that I'm looking forward to is being able to work with the curriculum to continue to improve and enhance that, to make what's already great even better for students, said Harrington. "I have experience getting out in the community and making the most of those relationships so I'd like to bring that to ACES, too, and I just hope that we can expose students to all the potential options that they have when they leave us and prepare them well to take on those opportunities and crush it in the real world."
Above all else, however, Harrington is extremely enthusiastic about getting to know the ACES students on an individual level, asserting that her office door is open for conversation--both casual and constructive.
"As an assessment professional, I care a lot about student feedback. So I want ACES students to tell us the things that they really like and also tell us the things that they really don't like because no one knows better than them what the experience actually is," she concluded. "And so, I want ACES students to know that I welcome feedback or casual conversation, and they are welcome to stop by and chat anytime."
In the meantime between these chats, however, here are some quick facts about the newest member of the ACES family:
Zodiac Sign: Cancer
Fun Fact: Cassie is allergic to bananas (but rebelliously eats them anyway).
Hobbies: Reading, going to sports games, baking
Favorite Book: To Kill a Mockingbird
Favorite Movie: He's Just Not that Into You
Favorite TV Show: Game of Thrones or Jeopardy
Favorite Food: Sushi (duh!)
Favorite Music Genre: Hip Hop
Favorite Color: Green (ESPECIALLY mint)
Published January 28, 2020