Research Spotlight: Desiree Abrokwa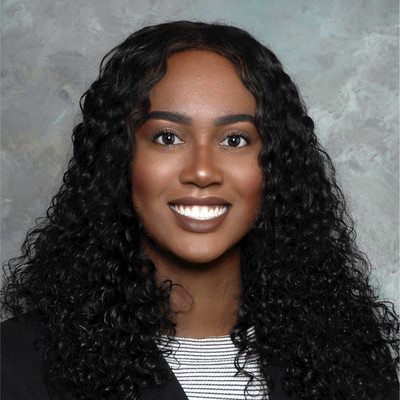 As a student of ACES, experiential learning is just part of the landscape. And while some students use various internships to fulfill this requirement, others immerse themselves in the complex, ever-variant world of research.

Desiree Abrokwa, a fourth year student in the ACES Minor studying Computer Science and Spanish Literature and Culture, is one of these students.

Abrokwa works as an undergraduate research assistant under the Security, Privacy, and People (SP2) lab at the University of Maryland. This lab is directed by Dr. Michelle Mazurek, an Associate Professor in the Department of Computer Science whose research focuses include human-centered security and privacy.

Abrokwa got involved with SP2 during her first year at UMD, kickstarting an extended interest in research.

"Going back to freshman year and how I got presented with research in general, I actually became aware of my first research project, the Secure Software Development Self-Efficacy Scale, because of a weekly email newsletter from ACES," said Abrokwa.

After the completion of this first study, entitled "Building and Validating a Scale for Secure Software Development Self-Efficacy," Abrokwa was presented with the opportunity to join another study, which she is currently working on.

For this study, Abrokwa is working on a research study with both Mazurek and graduate student Kelsy Fulton for the SP2 lab, examining and analyzing code from a Build It, Break It, Fix It Competition (BIBIFI), administered in the course CMSC388N from Winter 2020 at UMD. The research project operates with the goal of understanding how and why security vulnerabilities are introduced, found, and fixed.

"My typical weekly tasks involve analyzing a set number of commits on Gitlab from these BIBIFI teams and qualitatively coding, or categorizing, them based on different pre-established themes, so that we can note any patterns that may arise," explained Abrokwa. "This is a completely manual process thus far, as we go through each commit line-by-line when analyzing the code."

This research is not only affecting just the field of computer science; it has also directly affected Abrokwa's plan for her future. Though she plans to enter the workforce after graduation, she hopes to attend graduate school after a couple years of industry work.

"This research is helping to guide and direct my path to grad school as it is giving me more clarity on conducting research projects," noted Abrokwa. "I hope to apply the skills that I have been learning from these projects into the projects that I will be completing in graduate school."

Luckily, during the unstable academic time that surrounds the pandemic of the Coronavirus, Abrokwa's research remains relatively unaffected.

"COVID has not affected my research study. I am still able to manually review the BIBIFI code commits as it is all online," Abrokwa stated.

Outside of this research, Abrokwa is a co-course facilitator for a Product Management Course administered under the Computer Science department at UMD. Alongside friends Srivarshini Parameswaran and Annie Fang, Abrokwa created this course seeking to provide her fellow CS students the opportunity to pursue a non-traditional tech role.

"We believe that it is important to give other students knowledge on roles that are outside of the usual Software Engineering roles that are heavily advertised to us," explained Abrokwa. 'This led us to the creation of the course, as we realized there was a severe lack of resources in the CS department on Product Management and we wished we had such a resource when we first became interested in Product Management."
Additionally, this year, Abrokwa helped to organize Technica, the largest all women's and non-binary hack-a-thon. Though typically Technica is held in-person at UMD, this year's online format did not stop hackers from receiving the full experience. Abrokwa aided in facilitating this experience by helping to put together mini-events that were available to hackers throughout the day including games, yoga, trivia, and an open mic night.

Somehow, amongst all of her other involvements, Abrokwa still finds time for self-expression: calling herself a "makeup enthusiast," she also creates ceramic pieces.
Published October 26, 2020