Student Spotlight: Kyle Hurley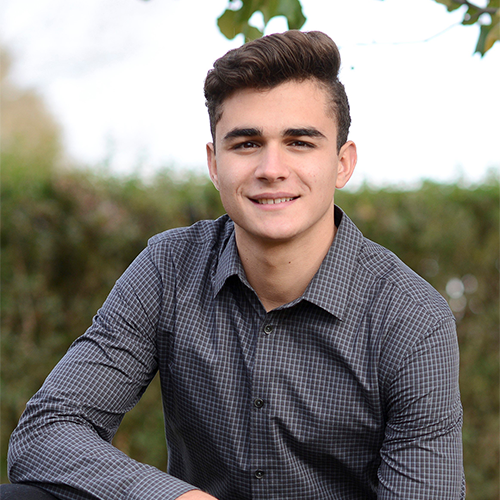 In light of a global pandemic and the move to a virtual learning environment, many ACES students are finding their internships and research greatly affected.
Kyle Hurley ('21) is not one of these students. Hurley is a ACES minor student majoring in computer science with a minor in trumpet performance. Hurley is additionally a recipient of the National Science Foundation's Scholarship for Service, a prestigious grant that prepares cybersecurity students for government positions in the field.
However, alongside his heavy involvement in the ACES community, Hurley exemplifies the well-rounded nature of its students. He is heavily involved in UMD's music scene, as he is a member of the university's marching band, the Mighty Sound of Maryland, holds an active membership in the ΦMA music fraternity, and a hosts radio show host at WMUC called "Escape Velocity."
On top of all of this involvement, Hurley performs research with the Censorship Breakerspace team on the GenEva project, under the guidance of Dr. Dave Levin. The GenEva project (short for Genetic Evasion) is a tool inspired by the principles of genetic evolution. Being that thiis tool automatically learns how to circumvent censorship, its tests in China, India and Kazakhstan found dozens of ways to combat this common cybersecurity issue by exploiting gaps in censors' logic and finding bugs that the researchers say would have been virtually impossible for humans to find manually.
"Recently, I was a part of a team that used GenEvafind strategies that could help perform TCP based reflection attacks through the high amplification of blockpages from censoring middleboxes," Hurley described. "Basically, when a user reaches for a restricted website, the countries that censor not only slap the users' hand, but slap it a couple hundred times. We hypothesized that this could be used for potential DDoS attacks using TCP, which is basically unheard of."
Though experiential learning such as research is a requirement for the ACES Minor, Hurley got involved in Breakerspace after taking a computer science course with Levin pertaining to Internet Security. Discovering that the GenEva Project tied closely with his own experiences and interests, Hurley pursued research with the team.
"I was enthralled with the applications of security in the modern world," he stated. "In addition to having a cybersecurity background through the ACES minor program and AI experience with the Machine Learning track of UMD's First Innovative Research Experience (FIRE), this interest drew me toward research with this team."
Lucky for Hurley and the rest of the Breakerspace researchers, the work they do can be done completely remote; therefore, shifts to virtual learning environments and research due to COVID-19 has not greatly affected the progress of the GenEva project.
"The research was not really affected by COVID, because as cybersecurity researchers most of our information and work is already from behind a screen," said Hurley. "Even the experimental process was online, with research boxes around the globe. I am very happy to be a part of such an efficient and adaptable team."
Therefore, while the world seems to have stopped, Hurley, Levin, and the rest of the team at BreakerSpace carry on, showing the versatility and flexibility of cybersecurity.


Published July 13, 2020