ACES student shows the benefit of getting involved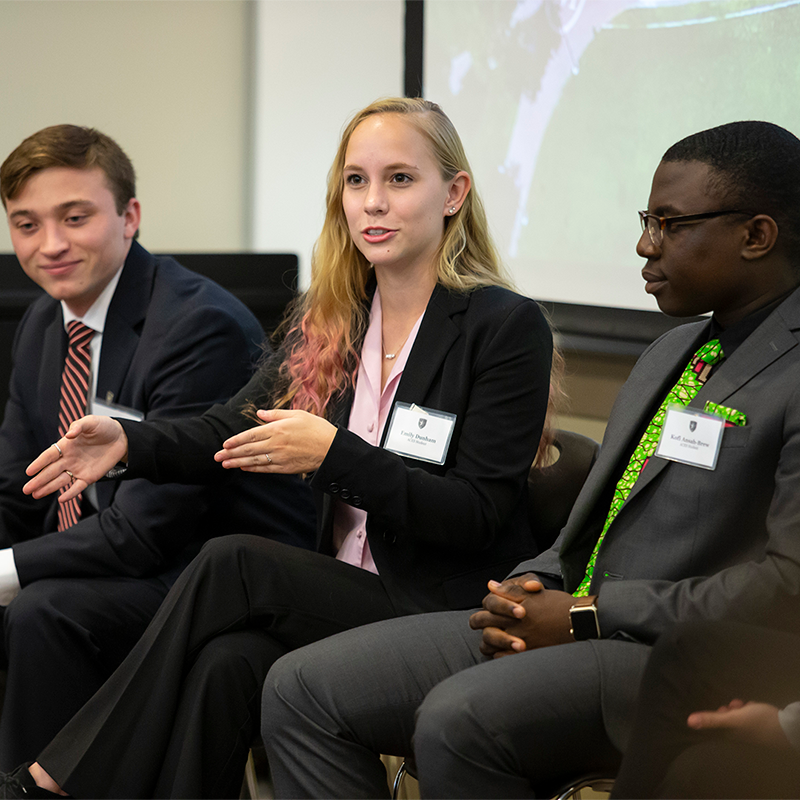 Emily Dunham ('21) is a computer engineering major, a student in the ACES Minor and Cybercorps: Scholarship for Service program, a Resident Assistant in Prince Frederick Hall, an Honors College Student Advisor, a Puppy Raiser for the Guide Dog foundation, and...the list could go on and on.
This drive toward involvement did not begin in ACES, however: since she was a senior in high school, Dunham knew that she wanted to attend a university that did not just teach her cybersecurity skills in the classroom; instead, she wanted a community with opportunities to grow as a professional and as a person.
Luckily, she found the UMD Honors College and, specifically, the ACES program in her college search: "A huge part of coming to ACES wasn't just the fact that there weren't any other schools that had such a good cybersecurity program," said Dunham. "So, when I was thinking about colleges my main concern was which one will give me the best opportunities after school, and I just felt like ACES was going to help me with that and give me the support and connections I needed to get a good job afterwards."
As an ACES student, it's safe to say that Dunham embraced all of the support and opportunities ACES had to offer. Notably, Dunham is a recipient of the prestigious Scholarship for Service (SFS) award, a program funded by the National Science Foundation that grants educational and professional development funding for students in the ACES Minor, with the requirement that they hold a government position after graduation for however long they received the scholarship.
"For me, it was easy to decide to apply. I already knew I wanted to work for the government because I like the idea of working toward a purpose," said Dunham of her decision to pursue a spot in the Scholarship for Service program. "I like the idea of my work having a positive impact on those around me."
The program allows her to explore different governmental workplaces after graduation, without tying her to a specific agency. In addition, Dunham notes that this experience will make her a more well-rounded candidate for any workplace.
"If anyone is on the fence about whether they want to apply for SFS, keep in mind that most of the jobs that you're going to apply for, you're going to get a clearance which will make you more marketable when you go anywhere else," advised Dunham.
However, though she will only have a three year commitment for government work, she has a desire to climb the professional ladder at a federal agency, a world where women are critically underrepresented.
"I want to get to the point where I am a director or manager of a certain program," noted Dunham. "That way, I can use the knowledge I've gained to help others."
Nevertheless, Dunham has found a myriad of other ways besides her involvement in SFS to stay connected within ACES. In fact, because of her involvement in the LLP and Minor, she decided to stay within Prince Frederick Hall as a resident assistant, as a way to give back to her community.
"I like being able to stay here and help current freshman and sophomores, whether it's figuring out what classes they might be interested in, giving advice on certain professors in the programs, figuring out where they might want to apply, or talking out different career paths with them since I've gotten to see so many of my friends go to so many different places."
With all of her involvement, one might expect Dunham to feel overwhelmed. However, she noted that it is because of these opportunities for involvement that she feels helps ACES students stand out from the crowd.
"Take advantage of the opportunities given to you. ACES has a ton of events that you can go to and they offer tons of support and resources to help you find jobs, said Dunham. "I think that's the biggest reason why so many ACES students have internships their first summer, and they continue to have offers back or are able to go to different place during their second summer."
And, luckily for current ACES students, Dunham does have one significant piece of advice, something that has kept her sane the past few years at UMD: "I'd recommend taking classes with friends: it's a lot easier and a lot less daunting to have a little study group that can help you figure things out and a lot of time these are the people you're living with anyway."
The applications for SFS are now open and can be accessed at aces.umd.edu/SFS.


Published February 25, 2020