ACES Student Brings Women in Cybersecurity Club to UMD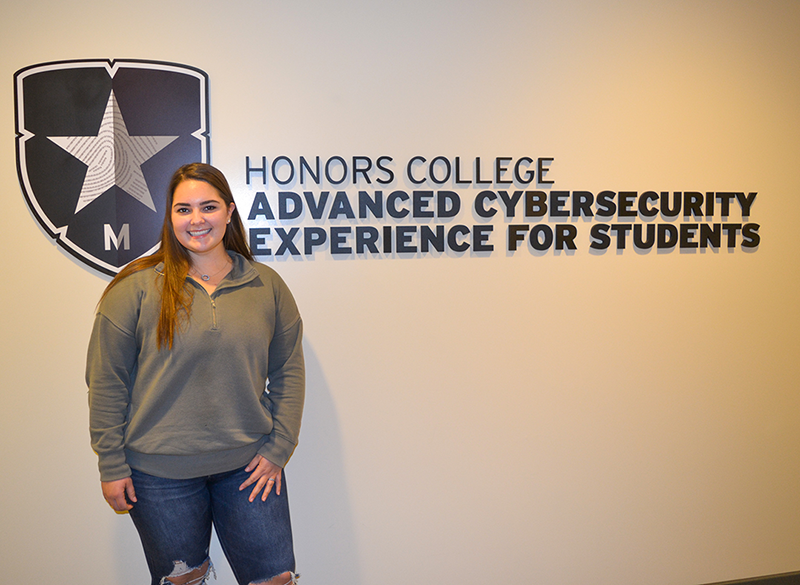 Kendall Pfeifer ('23) is a computer science major in the ACES Living Learning Program, a Parsons scholarship recipient, and the president of UMD's newest organization for women who have interest in cyber, Women in Cybersecurity.
Women in Cybersecurity (WiCyS) is a nonprofit organization assembled with the goal of bringing together women within the cybersecurity field, whether from academic, research, and industry, to share knowledge and expand experience, as well as to promote networking and mentoring among its members. WiCyS is dedicated to building a strong cybersecurity workforce with gender equality by facilitating recruitment, retention, and advancement for women in the field.
One method of facilitating communication among its members is by hosting an annual conference for its various host colleges. At this conference, students are able to network with experienced leaders and professionals in the cybersecurity field. Additionally, students attending the conference will have the opportunity to attend informative sessions and discussion about advancements within cybersecurity, career paths and leadership opportunities for women and nonbinary individuals in the field, inclusivity efforts in cybersecurity, and more related topics, as well as attending hands-on hacking demos and coaching.
Pfeifer, alongside ACES Associate Director and the Director of the Maryland Center for Women in Computing Jan Plane and three other women of ACES will be attending this conference in Denver, CO in mid-March.
In fact, it was Plane's email about the conference that first inspired Pfeifer to get involved in WiCys.
"I didn't know anything about WiCys until Dr. Jan sent out an email about the conference in Colorado that's coming up in a few weeks and I thought it sounded really interesting and like an amazing opportunity." said Pfeifer. "So, I signed up for the scholarship, and I actually received a scholarship to go."
After receiving this scholarship, Pfeifer was interested in becoming more involved with the program, which led her to perform her own research.
"I started looking more into why we didn't have a chapter here, and, it was a slightly new organization, so I figured because we have so many connections, whether its AWC or MCWiC, I thought that adding Women in Cybersecurity would be a great addition to Maryland," she stated.
And, so, Pfeifer emailed the official organization to inquire about setting up a chapter. Partnering with UMD Global Campus, she spent a large portion of the Fall 2019 semester making it happen.
"It's a lot of trying to secure funding and get the word out. Because we are such a big campus, sometimes putting a flyer out--it just gets lost and people have a lot going on anyways," said Pfeifer. "Luckily because we had such a wide audience between ACES and our huge computer science department, it's been pretty successful so far."
However, when choosing UMD and ACES, Pfeifer didn't always know that she was going to end up a Women in Cybersecurity. Ultimately, it was ACES' encouragement of the women in its program that assured her that she wanted to get involved.
"I came to the Women in ACES Day, and that was really what convinced me." she noted. "I walked in, and a couple of the students were going to see their Cybersecurity Connect mentor and watch Air Force One land with the Secret Service, and I was like, 'Oh my goodness. This is where I want to be.' So, that was definitely what influenced my decision the most."
Now, Pfeifer is using her position as an ACES student to inspire other women, just as she was inspired. This task involves planning events that will be beneficial for the members of WiCys.
Notably, WiCys plans to host workshops for women and nonbinary students who have not had much access to cyber experience, whether that be networking or technical skills. They also have an event in the works called My Career in the First Five Years which allows WiCys members to learn from field professionals in a personal, one-on-one environment.
"You get a chance to interact with women in the field and ask them whatever questions you have, and ask about their stories and their experiences," Pfeifer said, regarding the event.
And as Pfeifer stresses, WiCys is open to anyone with interest--not just those who identify as women.
"I think a lot sometimes get a little bit lost, especially women in cyber and nonbinary people in cyber, because there's not very many people who are like-minded or like you so I think Imposter Syndrome is a huge issue. So, if anyone--male, female, nonbinary--wants to be an ally toward the Women in Cybersecurity cause or wants to become involved, we're open to new members and open to everyone."
Those with interest in joining the Women in Cybersecurity organization should email Pfeifer at wicysumd@gmail.com for more information and meeting times.
Published March 5, 2020