ACES Students Attend Grace Hopper Celebration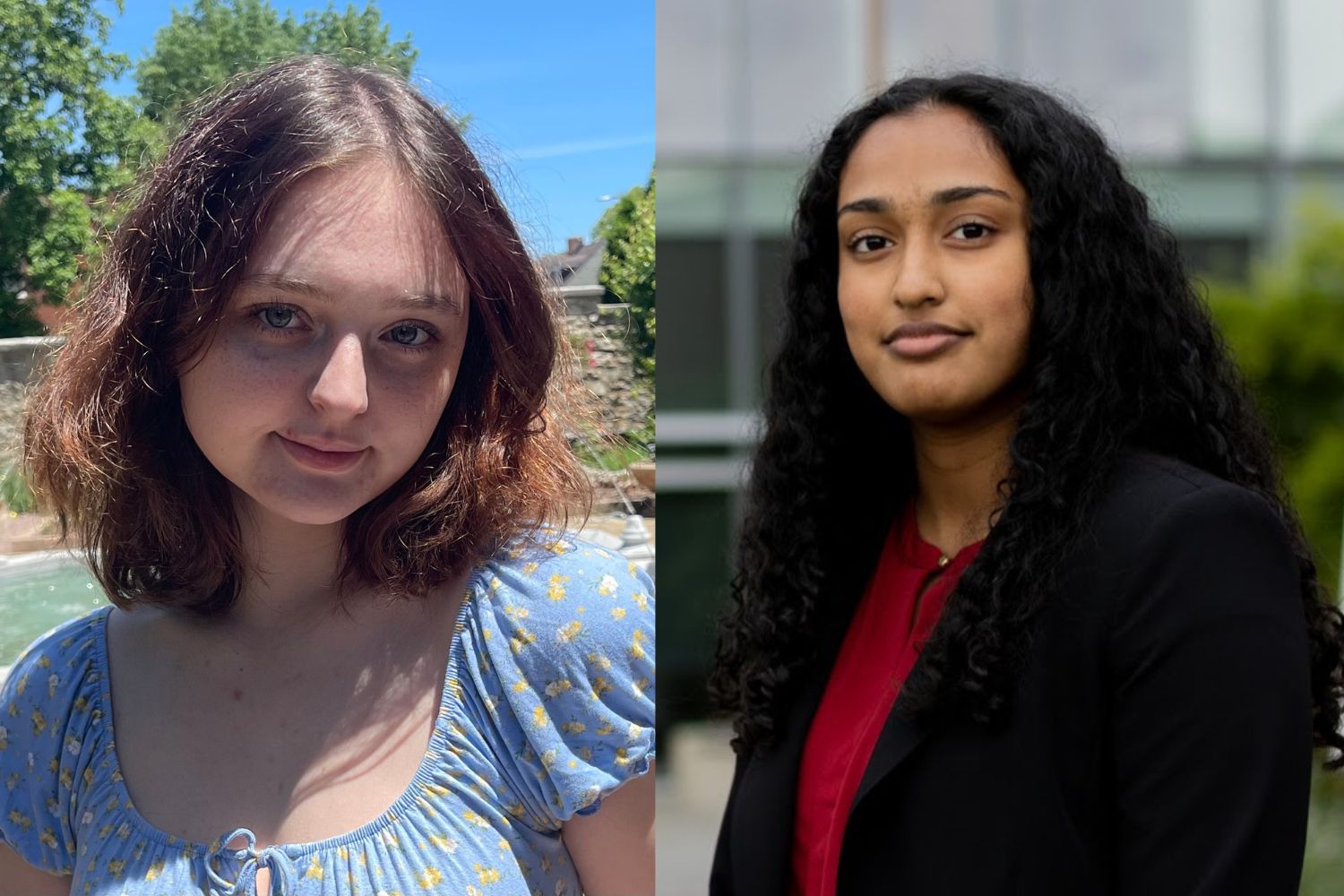 The Grace Hopper Celebration of Women in Computing (GHC) is the world's largest conference for Women and Non-Binary Technologists, designed to bring together individuals in computing as well as bringing their research and career interests to the forefront.This year, the conference took place from September 20th to 23rd in a hybrid setting, with the in person conference taking place at the Orange County Convention Center (OCCC) in Orlando, Florida. The event took place \in person for the first time in three years.
Two ACES students, Ana Coman and Sadena Rishindran, had the opportunity to attend.They heard about the conference through the I4C newsletter. The Iribe Initiative for Diversity and Inclusion in Computing (I4C) focuses on diversifying the tech sector and making computing inclusive across intersections of gender, race, ethnicity, socioeconomic status, sexual orientation, and disability status. They support, educate and mentor students majoring in computing fields at the University of Maryland. Ana and Sadena were sponsored through I4C to attend Grace Hopper, with Ana attending virtually and Sadena attending face to face.
Sadena's Experience in Orlando
Sadena is a junior computer science major and math minor as well as being a member of the ACES LLP.
Because Sadena wants to pursue a career in Software Engineering, she was eager to attend the conference. "It's a great networking opportunity, you get to hear from inspirational women and nonbinary individuals in technology, and get to learn from the experiences of all of the other attendees," said Sadena.
Her trip, including her flight tickets and hotel stay, were sponsored by the I4C. "It was also in Orlando so I couldn't pass up the chance to go," she shared.
She prepared for the conference by researching the companies attending and picking out the companies she was interested in. She refined her resume to give to recruiters at the Expo Hall to discuss internship and job opportunities. "I also looked through the conference agenda to see what events I wanted to attend the most so it would be less intimidating once I got to the conference," Sadena noted.
When asked about her experience at the conference, Sadena explained, "It was an incredible experience! Having spent the beginning of my college years doing everything virtually, it was exciting seeing so many people in person at one convention center" She was fascinated by the unique and visually appealing booths present at the conference. "Being a woman in tech, I didn't even know there were that many women in tech that existed, and seeing them all in one place was so wholesome. I left the conference feeling inspired and empowered," Sadena further added.
She shared several memorable moments from her time at the conference. "My favorite event was hosted by Citadel because they had Cady Coleman, a former astronaut, come to speak to us and they gave us tons of food. I got to try oysters for the first time! Cady Coleman was so down to earth and I even got to talk to her during the dinner which was a surreal experience" Sadena shared. She also enjoyed the events held by Dropbox at Epcot. "I dined with Dropboxers and got to hear about their experiences. Then we ended the night watching the fireworks show at Epcot which was a magical experience"
Conferences are a great place to learn and Sadena offered advice to those interested in attending the next conference:
"This is an amazing chance to be able to connect with many women and nonbinary technologists from around the world. I learned not to be afraid to go talk to people whether it be peers at events or recruiters and engineers at the company booths. The recruiters and engineers at the booths are all super friendly and are there because they want to talk to you so don't be afraid to pitch yourself and ask questions. In the worst case, you get to leave with some free swag!" she suggested.
Ana's Virtual GHC Conference
Ana is a sophomore Computer Science and Math double major from Columbia, MD.
She is also part of the ACES Student Board. She was excited to attend the conference and learn new things, meet fellow attendees and connect with corporate partners in the workforce. As a computer science student, she was curious to know what it is like working in the tech industry.
"We see a lack of diversity in the field, and I'm looking forward to see how women and non-binary individuals felt and how they've dealt with discrimination in the workforce," Ana noted, going on to share "I want to take a deeper look into what it's like working a 9-5, how people organize themselves and how the workflow takes place in organizations."
Describing her overall experience, Ana said, "I really enjoyed it! I got to connect with recruiters and discuss opportunities at their workplaces and how their interview processes are. I also liked listening to various speakers talking about different kinds of technology and about diversity in technology."
One specific discussion she enjoyed was a discussion about the interaction between healthcare and technology. "We're always seeing an increase in the need for such technology, and I found it intriguing that we can use machine learning to track details and patterns in cells that humans cannot, which can really help in treating diseases we haven't yet found the cure/treatment for."
She also attended a meeting on the discussion of graph theory and its use in tracking coding patterns. "The speaker explained how we can create graphs that hold method calls, and use algorithms to analyze these graphs and see the main functionalities for the code. She mentioned degree-centrality, which is how often a method (node) appears throughout the code-measured in percentage. And they analyze this degree-centrality for each node, rank them, and then can see what themes there are throughout the code," Ana recalled.
Throughout the conference, Ana attended several talks about various software aspects, similar to the one on graph theory which she found engaging.She felt inspired listening to people talk about standing their ground as a woman in tech. "One specific thing that stood out to me was one of the girls in my group meeting mentioned how she almost never has a female interviewer, which is something that I can relate to. It was nice hearing people talk about things that I've also been through and learning about companies who fight to counteract these issues," Ana described.
Through the experience of our students, it is evident that Grace Hopper Convention delivered on its promise to connect individuals, celebrate their achievements, and learn from others. After the conference, our students left feeling inspired and determined to continue learning how technology can be used to make a positive impact.
Published September 29, 2022