ACES Student Board 2022-2023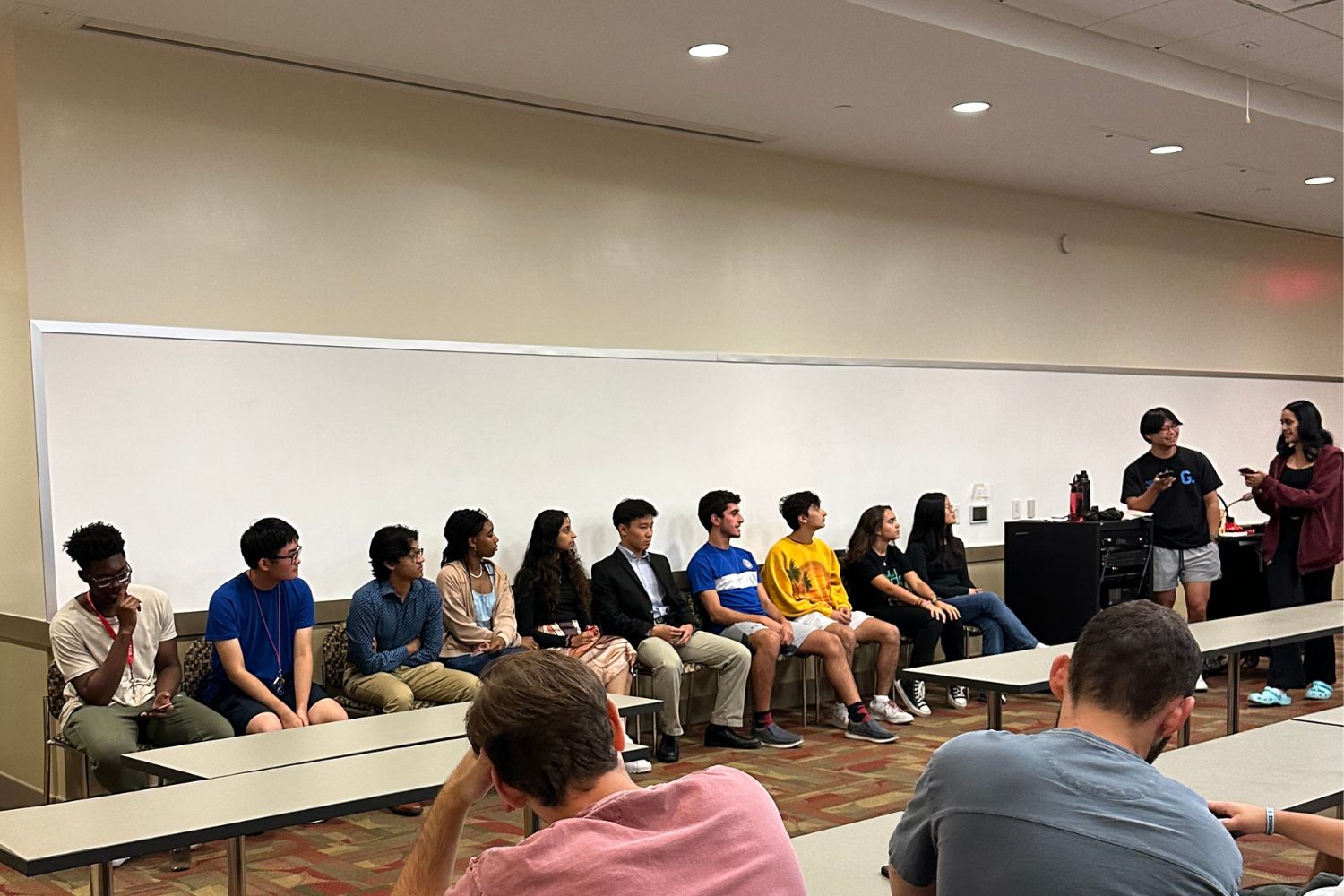 The ACES Student Board plays a vital role in planning and organizing social and educational events for nearly 180 ACES students. They work together with the ACES staff to create an inclusive environment where students feel welcomed. The Student Board members are elected by the student body to represent their values and views, and to communicate their concerns and desires to the ACES program.
The Board plans and hosts community-building activities and technical and nontechnical seminars sponsored by corporate contacts and skill development workshops that prepare students for their future careers. The board also hosts joint events with campus clubs such as Technica Hack4Impact, and other Living Learning Programs within the Honors college.
"We try to have a good mix of educational and social events, from holiday parties to resume workshops, to ensure learning while still keeping the program fun " says Board member, Divya.
Introducing the ACES Student Board Members for 2022-2023
Joseph Jubilee is the elected President of the ACES Student Board. He is a Computer Science Major from Gaithersburg, MD. Joseph is responsible for leading and managing ACES Student Board events, as well as ensuring that the board members accurately reflect the wants and needs of the ACES student community.
Anthony Ma is the Vice President of the ACES Student Board. He is a Sophomore studying Computer Science, as well as a foodie with a passion for traveling. He is responsible for organizing the student activities and gathering feedback from the ACES community.
Hafsa Anwar is the Treasurer of ACES student board and a Computer Science student. As treasurer, she plans the budgets for events and overlooks the procurement and investment of funds.
Trevor Lorin is the Board Secretary. A Computer Science major from Bel Air, Maryland, Trevor joined the ACES Student Board to ensure that all students will have a welcoming experience and find friends in ACES, just like he did.
Divya Hegde holds the position of the Education Chair. She is from Pittsburgh, PA, a Sophomore student majoring in Computer Science. As the Education Chair, she helps plan and lead educational events and workshops.
Ana Coman is a Math and Computer Science double major from Columbia, MD. She is the Social Chair and is responsible for coordinating social events. Ana joined the student board as she wants to encourage people to feel excited to be part of ACES and UMD.
Finally, we have four Freshmen coordinators who have joined us this year.
Aram Zaprosyan is a computer science major, who is originally from Baltimore City. He enjoys playing soccer and writing detective fiction stories. Maria House Ordonez is a CS major, minoring in Chinese. She is from DC, with origins rooted in Spain. Evelyn Jiang is a Letters and Sciences major and Elizabeth Welbeck is a CS major. Together, they bring a fresh new perspective to the student board and are responsible for conveying the needs and concerns of the freshman cohort.
Why Join the Student Board ?
Being a part of the Student board enables the members to make a positive impact on the ACES community. Our board members are motivated by a common desire - to help create a fun and inclusive environment for students. Planning events and brainstorming ideas allows them to showcase their creativity, build leadership skills and provides them an opportunity to practice decision making. For many, seeing the well planned student board events and hearing positive reviews from past members inspired them to join and contribute to the committee.
"I ran for Vice President as I had previously served as a First-Year Coordinator and really enjoyed helping to plan and host events. I find serving on the board truly rewarding, especially when I finally get to see it all come together. It is always great to hear from other ACES students how much fun and appreciation they had for our activities" said Anthony.
Members expressed that being part of the board is a great way to get involved, meet new people, make meaningful contributions and leave a legacy during their time at UMD.
What happens at the Student Board meetings?
Student Board meetings consist of the board members gathering weekly to plan events with Sarah Herberger, the ACES Program Coordinator. The meetings usually begin with staff updates on assigned tasks, discussion of upcoming events, proposing new ideas and end with members sharing roses and thorns about their days. The members plan out logistics for events while balancing budgets and reviewing feedback to improve upon past events. The meetings take place for an hour and each meeting has a fixed agenda.
"We meet every week for Student Board meetings, which allows enough time for members to come back with fresh ideas, from themselves and the community." explains Joseph
The meetings are a great way to improve communication, facilitate decision making and learn how to work in a team. Our Student board members support and encourage each other to share their perspectives and ideas.
"Although everyone on board has their assigned roles, we work as a team and blend all of our tasks." added Hafsa
Planning Student Board Events
Our Student Board members especially enjoy planning Social events as they are a great way to break the ice and get to know one another. "I enjoy planning events like holiday parties, where there are multiple aspects to work where everyone collaborates to create a memorable event," said Trevor.
Members particularly enjoy planning the Welcome week events, as they get to meet the new cohort. The great turnout at these events further motivates them to plan an event more grand than the last . "We were all excited to meet the new class and to hang out with them at the Powerpoint party and Brick Painting event." Ana recalled.
The End-of-the-Year Formal was a memorable event for the student board as they saved up for the final event and no longer had to watch their budget. "My favorite part was putting up the balloon decorations, rolling out the red carpet, and setting up the outdoor seating for people to enjoy the catered food on the front patio". Anthony reminisced.
Another favorite is the Halloween party that is hosted every year. "It was our first solo event that we got to plan as first year coordinators and it was super fun. It's cool to see something you planned turn out successful!" Divya exclaimed.
Freshmen coordinators Maria, Evelyn, Aram and Elizabeth are incharge of the Halloween party that is taking place on Oct 28, 2022. They are eagerly looking forward to a successful event where their hard work comes to life.
The student board is also planning upcoming events like "Capture the Flag'' in November, a holiday party in December and many more. They are working tirelessly to ensure that the student experience at ACES and UMD is a memorable one.
Published October 27, 2022