Summer 2023 Internship Highlight: Grace Ko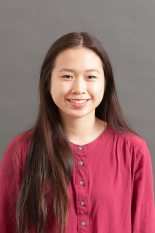 Embarking on an internship at Google is a dream come true for many students looking to gain transformative, real world experience. For one ACES student, Grace Ko, this dream turned into reality as she became a part of the Google Student Training in Engineering Program (STEP) for the second consecutive summer. Let's delve into her experience as she interned at Google's Mountain View office, working with the Android Wifi team in the summer of 2023.
Grace first learned about the Google STEP internship during her participation in the Google Computer Science Summer Institute (CSSI), a developmental program designed to prepare students for college and open doors to Google's opportunities. "During CSSI, I attended product design, resume development, and software engineering interview workshops. CSSI was taught by Google engineers, and I loved the vibrant culture that they created for all the students and it made me very interested in applying to Google STEP" said Grace.
Grace explained, "During my internship, my role involved developing a mobile client in Java. This client interacts with the Automatic Frequency Coordination (AFC) server through HTTP post requests, enabling devices to transmit a beacon within the 6GHz Wi-Fi network band. The objective is for our framework to be compatible with devices on platforms like Chrome OS, Android, and Fuschia."
Throughout her internship, Grace worked on several fascinating projects.
She developed two Wi-Fi shell commands to trigger a location update and allow users to configure the client with a custom URL and HTTP request parameters. To enhance user privacy, Grace implemented an algorithm in the Android framework by creating the location used for AFC queries with coarseness and randomness. Alongside this, she created an algorithm to minimize queries through checking whether an updated location is within the last AFC location.These tasks not only challenged her technical skills but also ignited her passion for creating meaningful solutions.
Grace embraced the fun and vibrant culture that Google is renowned for. "I really enjoy the day-to-day. Even though I am only required to go to the office 3 times a week, I go in everyday." added Grace. The enticing perk of free food at Google cafes became a highlight of her day. "I wake up in the morning excited for the new food items on the menu. In addition, the free food encourages bonding between Googlers.There's even a platform within Google that pairs you with another Googler you don't know to grab lunch together." Additionally, Google's shuttle service made commuting convenient, allowing her to focus on her project and attend meetings with ease.
Collaboration played a crucial role in her learning experience. As part of the STEP program, she was paired with another intern for the project. This collaboration allowed them to share ideas, enhance communication skills, and troubleshoot challenges together. "I really enjoy collaborating with my podmate and learn a lot. I think working with a podmate has been extremely beneficial in helping me gain communication and teamwork skills as well as technical skills because we're able to bounce ideas off each other. In addition, it's really nice to have someone your age to relate with on the project." expressed Grace.
Grace also had the opportunity to work with engineers in other teams, such as collaborating with a Rust expert to convert part of the framework to Rust and brainstorming ways to build the framework to make it more useful for ChromeOS.
Not everything was smooth sailing for the during her experience, though. She encountered challenges, particularly in learning to use Rust within the Android framework, as her team primarily coded in Java. However, her determination to succeed led her to explore other team's codebases and seek guidance from experienced engineers.Throughout her internship, Grace gained valuable skills, such as adapting to new coding environments. "I gained skills in understanding how to work with Android phones to run my tests. My test device must be connected via USB to my corp laptop and coding environment in order to run any tests so I definitely learned how to code in this new way that I never had before." explained Grace. These skills will undoubtedly prove invaluable in her future software engineering endeavors.
Grace highlighted the benefits of the ACES program, which equipped her with essential skills needed for the internship. "The ACES program definitely has benefitted me because I use the command line and vim during my internship and the first ACES introductory class taught both of these."
Looking ahead, Grace aspires to continue her journey in software engineering, with a keen interest in working for Google. Her internship experience aligns perfectly with her future goals.
To those considering internships in software engineering or related fields, Grace advises applying early and persistently. "I would advise students to apply to internships early on like the end of summer or beginning of school year, and not get discouraged if you don't understand things at first because if you keep at it, you will have a better understanding and gain confidence with time! I also would advise talking with others who are more experienced to learn more from them and share career insights." said Grace.
For Grace, interning at Google's Mountain View office was to be an unforgettable experience. Embracing challenges, collaborating with fellow interns and engineers, and honing valuable skills, her journey at Google has set her on a path toward a bright and promising future in software engineering.
Published August 8, 2023