Students Excited for SFS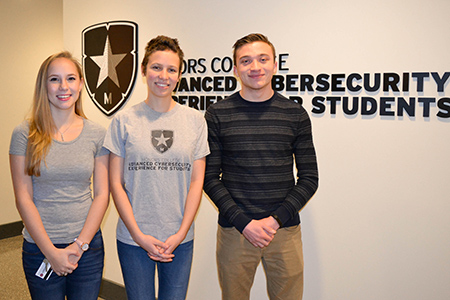 This winter, the National Science Foundation awarded the University of Maryland and the ACES program its CyberCorps: Scholarship for Service (SFS) program.
The award will provide scholarships for students willing to work in a governmental cybersecurity position after graduation. The scholarship will cover the cost of tuition as well as provide a living stipend for each student. The recipients will be able to graduate with a Bachelor's or Bachelor's/Master's degree and an ACES Minor in cybersecurity.
This scholarship presents a unique opportunity for ACES students. Emily Dunham, a current ACES student, was one of a handful of students who met with the NSF team during a visit to the University of Maryland, College Park campus. She was able to articulate to the team why she believed ACES deserved to be funded through this program.
"ACES has strong ties with many cyber defense contractors and agencies so it is only natural for many of us to continue this line of work," she said.
ACES and the three universities receiving the grant this year were chosen because of their strong academic programs in cybersecurity. Not only was ACES the first honors program in cybersecurity, but it provides students with specialized classes, state-of-the-art laboratories, and close partnerships with leading cybersecurity organizations. The program's founding partner, Northrop Grumman, and other key partners like the National Security Agency, help to shape the educational goals of the program. Through their support, ACES is able to create future cybersecurity leaders many of whom will become students in the SFS program.
Emily is excited that ACES has been awarded this grant and that students will have the opportunity to apply for it. She said, "The opportunity to apply for this scholarship is amazing because it would allow me to actively pursue a future job with the government and keeping people safe in the future. Overall I am very excited to see how this scholarship can help myself and others in the program pursue our career goals."
ACES student Nick Francino said, "ACES receiving the SFS grant is an incredible opportunity for students, and it shows just how impressive the ACES program is. As a student, it is exciting to see my program recognized by the National Science Foundation. The SFS grant will open doors and help ACES students with opportunities to work with the government."
The opportunities offered by ACES are one of the reasons many students decide to join ACES. Sophie Jessel, another ACES student, is one of the students that cites the number of opportunities as a reason for joining the program. The SFS scholarship adds yet another.
Sophie said, "I know several ACES students who joined the program specifically because of their interest in working for government agencies, and I think the scholarship is a great way to reward them for their dedication and efforts--and to hopefully encourage other students to learn more about work for the federal government."
To learn more about applying for SFS, visit https://aces.umd.edu/scholarships.
Published March 1, 2018