Alumni Spotlight: Katie Woods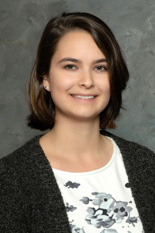 Katie Woods '17 was part of the first ACES cohort back in 2013. She chose to join ACES after getting interested in STEM in high school.
"When applying for college I knew that I wanted to major in computer engineering but I also wanted to experience more of the computing industry," Katie said, "and ACES was a great compliment for my major."
Katie now works at Northrop Grumman as a Software Engineering PDP (Professional Development Program). This means that she will do three, self-driven, 9-12 month rotations at Northrop Grumman, which will allow her to explore the company and her various interests.
Right now, she is writing software to control an FPGA (field-programmable gate array) and working on hardware and software integration. Soon, she will rotate to their cyber division and begin working on hardware reverse engineering.
By attending ACES professional development and networking events, Katie met many professionals, including some that she is now working with.
Katie said, "ACES allowed me the opportunity to network with professionals on a more personal level that I would not have had otherwise. This allowed me to make connections with some of the people that I currently work with early on and maintain those relationships over time."
She wants all ACES students to do the same. She said, "Take advantage of every learning opportunity that you can. Not many college students are fortunate enough to have an experience like ACES and it truly is an amazing program. Undergrad goes very quickly so enjoy every minute of it!"
Published June 5, 2018