Alumni Spotlight: Christian Johnson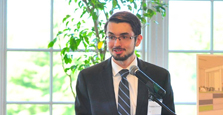 "I was one of those kids that applied to every college under the sky," said Christian Johnson a recent alumnus of the University of Maryland, College Park. He was looking for a school with a highly rated computer science program and proximity to professional resources, all of which UMD fit. "But ACES was what actually sealed the deal for me," he said. He saw potential in joining a program in its infancy that was directly related to computer science but would also allow him to expand his knowledge and interests at the same time.
Johnson took advantage of the opportunities that the program offered to him, and became a very successful student. In his freshman year, he was asked to be the undergraduate representative for a team compiled by the University president to come back and combat a major cyber attack. He won many awards throughout his time as a student as well, including the ManTech Cyber Security Scholarship his junior year.
He worked hard to get out of ACES all that he wanted. "When I came in as a freshman," he said, "it didn't take more than two weeks for me to know that I was in it to do it for four years." He made that wish a reality as the first student board president. Johnson worked with ACES staff to create the ACES minor, which made ACES the first program to have a minor in the Honors College.
Beginning in early 2015, Johnson began working as an intern with Northrop Grumman, where he stayed for two years. He worked full time over breaks and stayed on throughout the semester part-time as a cyber software engineer. That experience and the computer science and cybersecurity education lead him to his current position.
Now Johnson works at Amazon Web Services as a Systems Development Engineer, also known as an Operational Excellence Engineer. He began working part-time the spring before his graduation, beginning full-time once he earned his degree. "I'm primarily focused on how to raise the bar with operations, cybersecurity and best practices for the company to be able to continually provide highly available services that meet our customer's expectations or exceed them," Johnson said. "So both the computer science education and the cybersecurity education are both extremely valuable in my job."
Johnson cites ACES' strong corporate partnerships as one of the main reasons he is able to be where he is now. "The level of corporate engagement is a unique aspect of the program," he said. "ACES is really instrumental in providing career development and exposure. In general, ACES provided a level of exposure to the professional world that I have not seen out of almost any program at Maryland before."
He is looking forward to continuing his career at Amazon Web Services and seeing more ACES students reach success in their academic, personal, and professional lives. He said, "I'm very excited going forward seeing the strengthened relationship between the alumni community and the incoming students."
Published November 2, 2017