The ACES LLP Student Board Releases its Spring 2016 Newsletter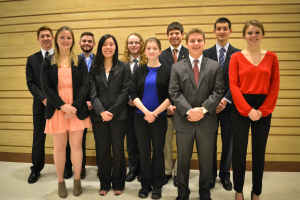 The ACES LLP Student Board has been hard at work this Spring semester! This week the Student Board published their Spring newsletter, updating ACES students about upcoming events, ways to get involved and the important topics that the Board has been discussing at their weekly meetings.
ACES Student Board President, Greg Bekher, is proud of the Board's progress this semester and hopes to continue the success throughout the rest of the year.
Bekher said, "The Board's goal this semester is to make ACES events even more exciting. We brainstorm new events during each weekly meeting. We are planning the first ever ACES hackathon on April 2nd, where students will form teams and spend the entire weekend hacking an app together. Another goal for this semester is to increase our community involvement, and we have formed the ACES Terp Thon team to raise money for the Children's National Health System."
"Our primary objective is to keep the ACES community engaged and active, and that involves listening to feedback from ACES students regarding coursework and events. We are actively working to make ACES better and always encourage the community to come to us with feedback."
Following positive feedback about last semester's social events, the ACES Student Board is ramping up their event schedule for the remainder of the year. Activities coming up include a movie night, a two-part tech talk, a St. Patrick's day event and the End of the Year $BASH Formal.
More information about the ACES Student Board members is available here.
Published March 4, 2016