ACES Students Attend the Metropolis Cybersecurity Competition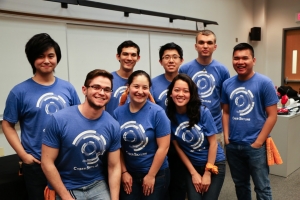 On March 26th, 2016, over thirty ACES students participated in the Metropolis Cybersecurity Competition at the Computer Science Instruction Center at the University of Maryland, College Park. Over two hundred high school and undergraduate students came together for a 6-hour competition to restore a virtual city that had been infiltrated by hackers.
The Metropolis Competition is organized by the company Cyber Skyline created by ACES Junior, Franz Payer during the spring break of his freshman year in 2014.
Franz said, "I decided to create Cyber Skyline because I became frustrated with how many cybersecurity competitions are run. Most are exclusive and actually discourage new students from participating."
Cyber Skyline's mission is to address the need for qualified professionals to enter the cybersecurity industry by creating large-scale competitions for students of all skill levels. Cyber Skyline emphasizes learning by providing educational resources for students to use before, during and after competitions.
Franz said, "Cyber Skyline is a company that I formed to provide a platform for both novice and experienced students in cybersecurity. The platform provides a safe learning environment as an online game. Right now, our focus is licensing the software to run competitions and provide learning experiences. The software is being used to run the National Cyber League competition and is used in the NSA's Day of Cyber."
At this year's Metropolis event, prizes for winning teams included Amazon gift cards, Google Chromebook Flips, Raspberry Pi 3 Kits, external hard drives, steam links and Amazon FireTV sticks. The competition had six sponsors including Capital One, Northrop Grumman, AOL, MITRE, Cipher Tech and Parsons. Four of those sponsors also created their own custom challenges for the competition.
Congratulations to the ACES Teams that took home prizes at Metropolis 2016!
2nd place Round 1 (Christopher Iler, Kevin Bock, Aravind Ramakrishnan, George Hughey)
4th place Round 1 (Max Grable, Jeremy Krach, Christian Johnson, Michael Ekstrom)
5th place Round 1 (Patrick Freed, Danny Beck, Zack Schwartz, Brian Mitchell)
4th place Round 2 (Christopher Lai, Steven Sakol, Connor Wench, John Williams)
5th place Round 2 (Ryan Eckenrod, Daven Patel, Ashton Webster)
Winners of Capital One and Northrop Grumman Challenges (Patrick Freed, Danny Beck, Zack Schwartz, Brian Mitchell)
Learn more about Cyber Skyline and the Metropolis Competition (link is external)here.(link is external)
Published April 7, 2016