Three ACES Students Attend the Women in Cybersecurity Conference in Dallas, TX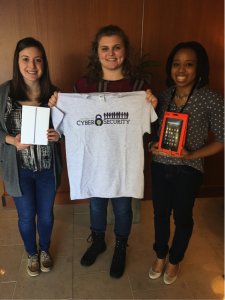 ACES Sophomores Kinsey Smith, Kathryn Crisafulli and Kenya Colvin recently attended the Women in Cybersecurity Conference in Dallas, Texas from March 31st to April 2nd, 2016.
The Women in Cybersecurity Conference is organized by The Women in Cybersecurity Initiative which raises awareness about the nature and importance of cybersecurity careers and encourages female students to consider cybersecurity as a viable career option. The annual conference gathers female students, faculty, researchers and professionals in cybersecurity for sharing of knowledge, mentoring and networking.
While attending the conference, the ACES students attended several engaging sessions, heard from female speakers about their journey in the cybersecurity industry, and visited a graduate school and career fair.
ACES Sophomore Kenya Colvin said, "One of the sessions I really enjoyed at the conference was CTF 101 sponsored by Facebook. During the session, I learned how to play capture the flag which taught me more about reverse engineering and using SQL injections to bypass a PHP login."
ACES Sophomore Kinsey Smith said, "On Saturday, we had a speaker during lunch that absolutely blew me away. Her name was Heather Atkins, and she is the Director for Information Systems at Google. She said a lot of interesting things about the similarities between cyber incidents and ecosystems. She also mentioned different motivations of hackers and examples of hackers she had handled during her time at Google."
Colvin said, "One of my favorite keynotes was given by a woman from IBM. She talked to us about how she rose through the ranks in her company and got involved with cybersecurity."
Smith said, "I learned that cyber security isn't just about the hackers and the people who stop them - cyber security reaches every aspect of our lives, whether we know it or not. I learned about the education aspect, the business aspect, and even the psychological aspect of cybersecurity. It was so interesting!"
More information on the Women in Cybersecurity Conference is available here. (link is external)
Published April 25, 2016