ACES Student Participates in Winter Term Outreach with Engineers Without Borders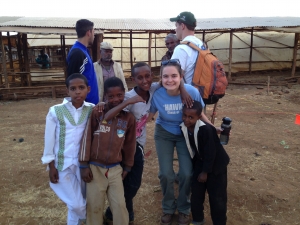 Junior Computer Science major Katie Woods, an ACES LLP alumna and current ACES Minor student, spent her winter break with four University of Maryland students giving back to the community of Addis Alem, Ethiopia.
As a member of the University of Maryland's chapter of Engineers Without Borders, Katie participated in a two and a half week long project to improve the town's marketplace and drainage system.
Engineers Without Borders is a non-profit organization that partners with disadvantaged communities to improve their quality of life. The organization implements environmentally and economically sustainable engineering projects, and develops internationally responsible engineering students.
"I have always loved outreach and Engineers Without Borders has allowed me to continue this passion throughout college," Woods said.
After two and a half years of planning, the main projects of the trip included building a pavilion and drainage system for the community's marketplace. Due to heavy storm waters, vendors in the marketplace face difficulties operating their businesses and experience problems with sewage and trash build-up.
The pavilion provides an expanded space for multiple vendors to sell goods and increase productivity. The drainage system around the pavilion diverts rainwater away from the marketplace and around the pavilion.
"Through this project, we provided the community with a model that they can replicate in the future. The idea is that we teach them so that when we leave they can continue to do it themselves," Woods said.
Katie got involved with the University of Maryland chapter of Engineers Without Borders during her freshman year at the First Look Fair. More information on Engineers Without Borders, is available here.(link is external)
Published February 16, 2016