The ACES Living-Learning Program Welcomes its Third Cohort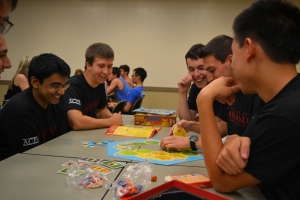 On August 27th, 2015, the ACES Living-Learning Program welcomed its third and largest cohort to date. The 104 incoming ACES freshmen began their journey last week with a series of Fall Welcome activities planned by Residence Life, including movie viewings, sporting events, the B1G Show, dance lessons and much more.
In addition, the incoming cohort transitioned to campus through a variety of ACES program events. Following Honors Convocation, students enjoyed desserts and friendly competition over board games with their new ACES peers. The excitement continued into the weekend as both freshmen and sophomore ACES students played volleyball, Frisbee and Kan Jam on the Prince Frederick Hall lawn at ACES Field Day. The third cohort also got the opportunity to familiarize themselves with the University of Maryland through campus tours led by the ACES student board. To conclude the weekend and get ready for the first day of classes, all ACES students, new and old, joined with program leadership for a community dinner at Prince Frederick Hall.
For more insight into ACES move-in week and our third cohort's first moments on campus, watch our video.
As ACES social and professional development events continue throughout the year, the incoming cohort and returning living-learning program sophomores will be given the opportunity to build their community and cultivate the skills they need to become future leaders in the field of cybersecurity. A preview of upcoming ACES events include an internship panel and resume review workshop with Northrop Grumman, a field trip to the UMD Challenge Course, an ACES Family Weekend open house and a field trip to the National Cryptologic Museum.
The third cohort is composed of 50 percent computer science majors, with the remainder of students pursuing majors such as computer engineering, finance, criminal justice, physics and mathematics. In support of a multi-disciplinary approach, the diverse majors of ACES students enhance both the living and learning components of the program.
To learn more about the students in our incoming cohort and their ACES experience, look out for more student videos on our website and social media outlets.
We wish our third cohort the best as they embark on their new and exciting college career!
Published September 2, 2015