Dr. Plane Accelerates Computer Science to the Forefront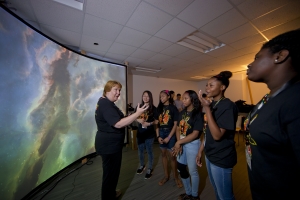 Dr. Jandelyn Plane, Director of the Maryland Center for Women in Computing and Associate Director of ACES at the University of Maryland, has received widespread recognition for her dedicated involvement as Co-Principal Investigator of CS Matters in Maryland and the leader of Computer Science Connect Camp (CompSci Connect).
CS Matters and CompSci Connect are rooted in Dr. Plane's mission towards evening out the gender imbalance in computer science and its related fields.
"I believe the only way to get more diversity in computing fields is to educate people about what computer science really is. This field has a stereotype that has lasted for many years even though it is incorrect. People naturally have a very narrow definition of what computer science is unless they have been exposed to other areas. This lack of exposure for certain populations explains the lack of diversity. Both of these programs are geared toward making sure more students get exposure to the breadth of areas they can pursue by studying computing," Dr. Plane said.
CS Matters involves the collaboration of advanced higher education faculty and leading high school teachers to train other high school teachers in offering their students a college preparatory course in computer science. As a part of this project, Dr. Plane, her CS Matters team and group of Master Teachers, are designing a comprehensive CS Principles course curriculum and training materials.
The objective of CS Matters is to increase the accessibility of academically challenging computer science courses in high schools across Maryland. As a result, the team aims to boost students' interest in studying and pursuing computer science as a career.
The CS Matters curriculum, upcoming workshops and a further description of their accomplishments and goals can be found at their website(link is external). CS Matters was feautured on the CS Department website available here(link is external) and in the Daily Record(link is external).
Also headlining recent news is CompSci Connect, a two-week summer camp for middle school girls, led by Dr. Plane. Each cohort of students returns to the camp for three consecutive summers and meets once a month during the school year to maintain the skills they have learned. The camp provides students with the opportunity to explore the field of computing at a pivotal age.
As supported in literature, girls are as equally interested in STEM as boys during elementary school, however throughout middle school and high school their interest declines. CompSci Connect's motivation behind working with girls completing 6th grade is to extend their interest in STEM as they progress into high school.
"The breadth of what fields are touched by computer science is my main goal. If they are interested in almost anything, having a background in computing can be applied there," Dr. Plane said.
In conjunction with gaining skills in web development, computer programming, robotics and cryptology, CompSci Connect provides a supportive space where the students can explore their computing creativity.
"My other goals are to give them confidence working with computers so they don't feel intimidated and to give them connections to other children interested in computing so they don't feel isolated," Dr. Plane said.
Facilitators of the exciting environment at CompSci Connect are the ACES students that assist with instructing the camp. ACES student and Camp Manager, Carina Sheehan, has taken the opportunity to work side-by-side Dr. Plane and put what she has learned inside of the classroom into action.
"My role at CompSci Connect complements my ACES experience because I am teaching others something new about computer science and inspiring them to take it further," Sheehan said.
A deeper insight into CompSci Connect can be viewed on PGCTV's online video, available here(link is external), and also on the CMNS website(link is external).
We congratulate Dr. Plane on her all accomplishments and look forward to the further strides she will take in excelling the field!
Published August 6, 2015