ACES Living-Learning Program Alumna Chosen as Student Speaker at Honors Convocation 2015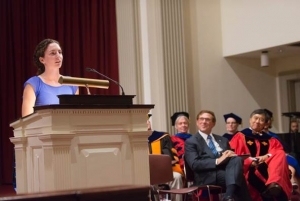 First-year Honors students gathered in Memorial Chapel on August 27th as faculty and staff welcomed the Honors College Class of 2019 to the University of Maryland.
An annual tradition for the Honors College at the University of Maryland since 2010, Convocation introduces students to the Honors College with welcomes by Honors College Executive Director Dr. Bill Dorland and the Program Directors of the seven Honors College Programs: ACES, Design Cultures + Creativity, Entrepreneurship and Innovation, Gemstone, Honors Humanities, Integrated Life Sciences and University Honors.
This year's keynote speaker was Eric S. Francis, Honors College alumnus and President and CEO of CBMC, Capital Business Maintenance Corporation. The featured student speaker was Sydnee Shannon, an ACES I Alumna and current Honors College junior majoring in mathematics and minoring in computer science.
As a student actively involved in the Honors College and ACES program, Sydnee recognizes the significant impact that these communities have had on her college experience and was motivated to share their importance with the first-year students. As a result of taking part in Honors Ambassadors, research with ACES Program Director, Dr. Cukier, and being a Student Coordinator for the Honors College Overnight Stay Program, Sydnee has formed relationships with Honors College faculty and staff, and has been provided with numerous opportunities for gaining professional connections and internship opportunities.
Sydnee's thoughtful speech focused on the key pieces of advice she wished she received before beginning college. Her tips for the incoming freshmen included getting an internship or research experience, stepping outside their comfort zone, getting involved with clubs and meeting new people, managing their commitments, and remembering to have fun and not growing up too quickly.
Sydnee said, "I think we sometimes put too much pressure on students to be perfect grown up adults rather than realizing that they are eighteen to twenty-one year olds who are trying to learn how to live on their own, who they really are, and what they want to become."
In her speech Sydnee said, "No one expects you to be perfect and balance in life is key."
In order to achieve this balance Sydnee says, "I've tried to prioritize my extracurriculars and only pick a few to participate in each semester. Instead of joining everything, I try to get more deeply involved in the leadership of the groups I am most passionate about."
Sydnee also highlighted how the ACES program has influenced her journey at the University of Maryland.
"From the first night after I moved in, the ACES students were already playing cards and exchanging phone numbers which quickly led to the close knit group we have today. The people I have met here are so inclusive and friendly, with everyone looking for more ways to stay involved in the program and meet new members."
We congratulate Sydnee on her memorable speech and hope that the Honors College and ACES Class of 2019 will carry her words of wisdom throughout their journey at the University of Maryland!
Published September 17, 2015