ACES Sophomores Place 2nd at MHacks 6Sep. 23-25, 2016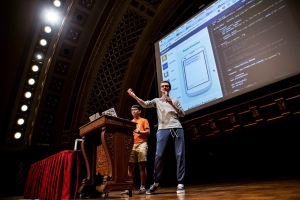 On September 12th, 2015, over 1,500 participants and community members came together at University of Michigan's North Campus for MHacks 6. MHacks 6 is University of Michigan's annual hackathon, a weekend-long event where undergraduate students from across the world work together on teams to build a project from start to finish. Participants are prohibited from starting their projects prior to the start of the event, but oftentimes students will come to the competition with an idea.
Since MHacks 6 is one of the largest collegiate hackathons, with a total of 276 projects submitted, ACES Sophomores and MHacks 6 participants Colin King and Sean Bae had tough competition ahead of them. Seizing the challenge, team King and Bae took home 2nd place. They were also awarded the best use of Twilio and the top .CO domain.
Colin and Sean came to the competition without a project idea, but as they were walking off the bus to sign-in at the Hackathon, an idea popped into Sean's head. They would build an app store for dumb phones.
"We wanted to create a system where developers could easily create an application and have it deployed to the cloud, where it would be accessible through SMS from any kind of phone, whether it is a feature phone or a smartphone. The SMS nature of communicating with these applications essentially allows users to access internet-connected applications, like ecommerce stores, their bank accounts, or their social network feeds, without requiring internet in the first place," King and Bae said.
The power team named their application "Smartify," because they saw it as a way of making "dumb" phones smart again.
After showing off their hack to the judges in the expo, Colin and Sean were invited to demo Smartify on stage in front of all 1500 attendees. When they unexpectedly received the news that they were chosen to demo during the closing ceremonies, Colin and Sean rushed to the other side of campus. Despite only three minutes of stage time, Smartify won over the judges.
Reflecting on the experience Colin said, "Honestly, I would not have been there if I hadn't met Sean through ACES. We first met by competing on the same MDC2 team last year and went to our first hackathon together. Since then, Sean and I have gone onto compete in eight more hackathons."
More information about Smartify, the app store for SMS-capable feature phones created by Colin King and Sean Bae, is available here.(link is external)
Congratulations Colin and Sean!
Published September 28, 2015