Four Freshmen Elected to the ACES Student Board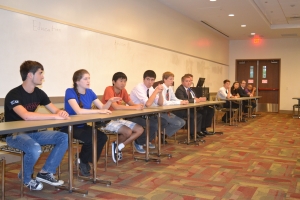 Earlier this month, the ACES Student Board announced four open freshman positions: Social Coordinator, Lab Coordinator, Education Coordinator and Advisor to the President.
The nomination process closed on September 25th, resulting in two candidates for Education Coordinator, two candidates for Lab Coordinator, three candidates for Social Coordinator and five candidates for Advisor to the President.
On September 28th, the current ACES Student Board held a debate between the freshmen nominees in the Multipurpose Room of Prince Frederick Hall. Students in ACES Cohort III came out to support the nominees and ask questions.
The ACES Student Board also came prepared with topics to fuel the debate. Questions to all candidates included: What is your opinion of how the Student Board has handled events so far? How will you ensure that you represent the voice of the students and not your own personal opinion? What do you hope to achieve during your time as a member of the board? If you could pick one word to describe the way you will manage your position on the Student Board, what would it be?
Following the discussion amongst all candidates, questions were then directed towards nominees for each position.
In response to the debate, current ACES Student Board President, Greg Bekher said, "I am very pleased to see strong candidates for all positions and foresee a tight race. Candidates spoke to their qualifications, skills, and how they would effectively serve their cohort. This year poses many challenges, particularly with the addition of our largest cohort yet. Addressing the needs of over 160 students is a top priority for the Student Board and was a key discussion point at last night's debate."
Elections opened the following day and all ACES Cohort III students were encouraged to vote for the candidate they believed would be the most influential in their position.
At the close of the elections, the ACES Board was proud to announce the results:
Education Coordinator: Camille Barnard
Lab Coordinator: Daniel McVicker
Social Coordinator: Aaron Stein
Advisor to the President: Grant Hoover
We congratulate all of the candidates and the elected freshmen members of the ACES Student Board. It is going to be a successful year!
Published September 30, 2015