Students Elect the 2016-2017 ACES Student Board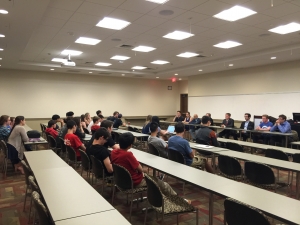 Following a successful year with the 2015-2016 ACES Student Board, April marked the start of the 2016-2017 student board elections. After celebrating the current board's accomplishments, it quickly became time to welcome a new leadership team.
Starting in the beginning of April, ACES students nominated potential student board members. On April 18th, a debate was held among the nominees to voice their goals to the ACES LLP. On April 19th, ACES students placed their final votes and the results were revealed.
Following the election, the outgoing board was proud to announce the newly elected ACES Student Board:
President: Alex Danoff
Vice President: George Hughey
Secretary: Kimberly Metta
Education Chair: Michael Strauch
Lab Chair: Srujan Thotapally
Social Chair: Aaron Stein
Newly elected student board president Alex Danoff said, "The transition from high school to college is a scary time for everyone, but for me, the ACES program and the community it provided made what is usually a jarring change into a smooth one. After having such good experiences as a freshman in the program, I decided it was important to give back and dedicate myself to its continued success. Being president of the student board puts me in a position that is uniquely well suited to doing just that, and I couldn't be happier."
For Danoff one of the most important aspects of ACES is community. In the upcoming year, his goal for the student board will be to strengthen the academic, social and professional components of the ACES community. Danoff said, "Fortifying these communities now will fortify the ACES program for years to come."
We congratulate the members of the 2016-2017 ACES Student Board and look forward to a productive year ahead!
Published May 6, 2016