ACES Sophomores Demo at New York Tech Meetup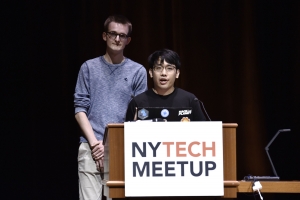 On May 3rd ACES Sophomores Colin King and Sean Bae demoed their Drone Regulator at the 2016 New York Tech Meetup.
New York Tech Meetup,(link is external) the largest meetup group in the world, brings together technology companies once a month at NYU. During the meetup companies demo new ideas, discuss emerging technology topics and build their professional networks. At the May 2016 NY Tech Meetup there were a variety of demoers, including Devpost, Two Sigma's open source division and the National History Museum.
Prior to NY Tech Meetup Sean and Colin attended HackNY(link is external) at NYU and worked on a project to improve the way that hobby pilots fly drones. In order to prevent incidents like crashing into an airplane(link is external),(link is external) flying dangerously over a baseball game(link is external) (link is external)and crashing onto the White House lawn(link is external),(link is external) the FAA is deciding which regulations will apply to drones. Currently, there are only a handful of strict regulations that drones must follow, such as the 15 mile no-fly zone around the DCA airport.
King said, "It is difficult for hobby pilots to get up to speed with what regulations apply to them. Thus, Sean and I used HackNY as an opportunity to build a proof-of-concept web application aimed at hobby pilots in order to make it easier to go out and fly drones for fun."
Sean and Colin called their web app the Drone Regulator(link is external). The Drone Regulator connects to your Parrot Bebop Drone and lets the pilot fly their drone with either their computer's keyboard or PlayStation controller. The drone's GPS, camera feed and altitude are passed to Colin and Sean's server, which processes the data. The server then determines if any regulations need to be enforced on the drone (such as violating a restricted airspace or an altitude restriction), and passes the information to the Drone Regulator web app where it is rendered for the pilot to monitor.
The top 3 winners at HackNY traditionally have been given the chance to demo at NY Tech Meetup. This year one of these teams dropped out and Colin and Sean were chosen as the runner-up from a field of more than 50 other projects. Watch Colin and Sean's presentation at NY Tech Meetup here.(link is external)
King said, "All together, Sean and I were very relieved to have not crashed into anyone with the drone while flying on stage! We would definitely recommend that other UMD students check out the local DC Tech Meetups."(link is external)
Published May 11, 2016