ACES Students Participate in Walk MS in Washington, D.C.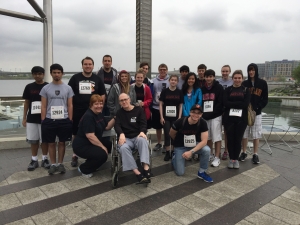 On Saturday, April 23rd, ACES students participated in the Multiple Sclerosis Walk in Yards Park, Washington, D.C. for the second year in a row.
The MS Walk, hosted by the National MS Society, Greater DC-Maryland Chapter, entered its 28thyear in 2016. Raising over $2,000,000 in 2015, each year's MS walk attracts over 13,000 participants and volunteers.
ACES Sophomore, Greg Bekher said, "For the 2016 Walk MS, the ACES Student Board team beat our donation goal of $500 and received over $1100 in generous contributions from friends and family. We thank ACES Associate Director, Dr. Jan Plane and her husband, Mr. Mike Plane for joining us this year. We are glad to continue this tradition started by last year's ACES Student Board and thank everyone for their support. Together, we can lead the initiative find a cure for MS."
Published May 2, 2016