Parsons Hosts UMD Honors College Students at Washington Nationals Game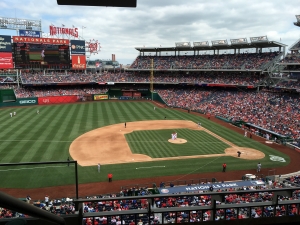 On Saturday, April 23rd, Parsons hosted University of Maryland Honors College students at the Washington Nationals game in their suite at Nationals Park. ACES Director, Dr. Michel Cukier and two ACES Sophomores, Colin King and Sean Bae attended the game.
ACES Sophomore Colin King said, "This was probably one of my favorite networking events all year. It was a great opportunity to meet Parson's employees with different specialties and to learn about the various cybersecurity problems they have been working on. An extra plus was that there was a baseball game to watch and the Nationals didn't disappoint us as they shut out the Twins 2-0."
Thank you to Parsons for hosting University of Maryland Honors College and ACES!
Published May 2, 2016