Student Internship Highlight: Joy Wang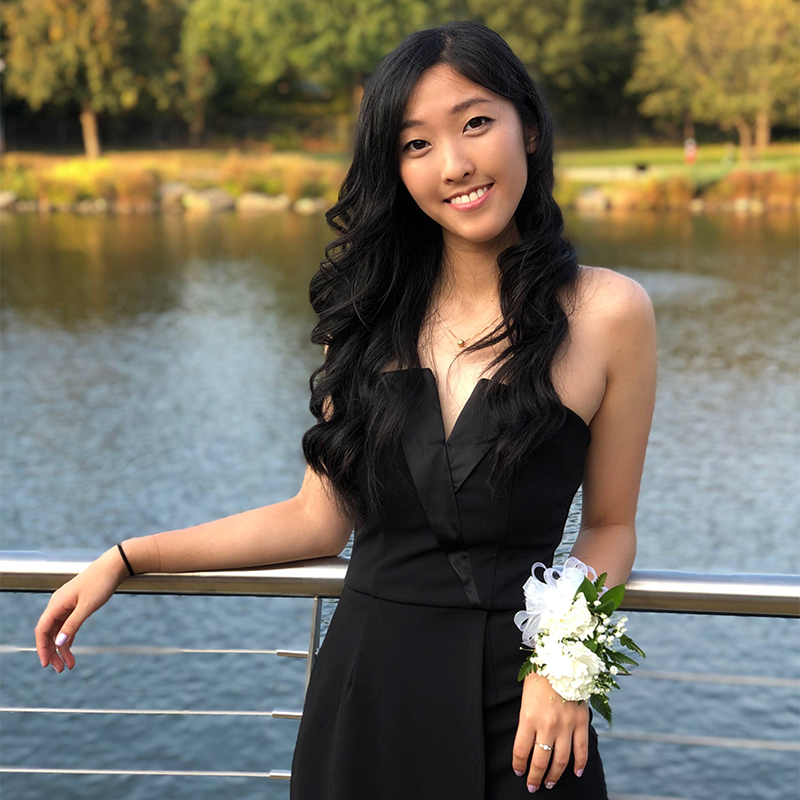 With summer in full swing, the majority of ACES students are deep within an internship, gaining practical experience in their fields.

Joy Wang is a second year computer science and data science student in the ACES Living Learning Program who found her internship not on a job board or career fair but from a friend's TikTok.

"I heard about Chewy from a TikTok that my friend made. He had previously interned at Chewy as a SWE intern and loved it, so he decided to make a fun TikTok about it," Wang noted.

After finding this TikTok, Wang decided to do some research of her own about the company and was pleased with what she discovered.

"While I am (unfortunately) not a pet owner, I was still really impressed by how dedicated Chewy was towards not only pets, but also the people," said Wang. "I loved how Chewy displayed exceptional care towards both its customers and employees, and it was exactly the kind of fast-paced, but fun work environment that I was interested in. Plus, the cute pups and cats are a nice bonus!"

Currently, Wang is acting as a Software Engineering Intern remotely at Chewy, the American retailer of pet-related products. Due to COVID-19, Wang is completing this internship remotely.

At Chewy, Wang works as part of the Site Reliability Engineering (SRE) team. This team focuses on improving reliability at scale, with core concepts operating around automation and early detection using observability tools.

"Specifically, I am working on a project regarding CI/CD( continuous integration/continuous delivery) pipelines, which will help ensure Chewy customers get the best experience by improving observability and automation in our code pipelines," Wang described.

"This was my first time hearing about Site Reliability, and I admit, the first few weeks were really daunting and confusing," said Wang. "However, under the guidance of my manager and my mentor, I've been learning so many new concepts and programming languages, and I've been gaining a lot of knowledge on infrastructure, code deployment, and a lot of other things that I've never gotten exposure to before."

As a first year student considering her options, Wang knew she wanted to pursue a tech related internship. She decided to use this internship as an opportunity to explore one side of the field of tech: software engineering.

"I like that I'm able to get a feel for working in a professional environment, so I will take this experience to learn as much as I can, figure out what I like/don't like, and set myself up for success as I continue down the road of professional development," Wang explained.

This road to professional development through the tech field was part of the reason that Wang decided to apply for ACES in the first place.
"Choosing ACES was a simple, obvious decision for me. First off, it aligned with my interests in technology and it was a perfect opportunity for me to explore cybersecurity which was a field that I had always been intrigued with," Wang shared. "Also, I loved that the program valued not only academics, but also professional development, which was huge for me, as someone who wanted to get a feel for the real-world work environment. But the factor that drew me in the most was the program's dedication towards student involvement and inclusion. And, now that I've finished my first year, I can say with full confidence that choosing ACES is the best decision I could have made for my freshman year at UMD."

Recognizing that these resources may be overwhelming, Wang offered advice to the incoming class of ACES Terps:

"Don't be afraid to put yourself out there! Branch out and take advantage of the resources around you, including the tight knit community with your fellow cohort and the upperclassmen. While ACES is distinguished for its countless academic and professional opportunities that it offers to students, I believe that the community is by far the best part. Here at ACES, I've met so many brilliant but also caring people, who are always down to lend a hand. And despite being completely virtual this year, I still found myself making so many friends thanks to all of the events and workshops that are offered to us!" Wang noted.
Outside of tech, computer science, and software engineering, Wang is interested in video games and other media with aesthetic art and design. She loves balancing her interests in tech with her interests in the art world. Wang is also Vice President of the ACES Student Board.
Published July 14, 2021