Prince George's County and UMD Highlight Cybersecurity Defense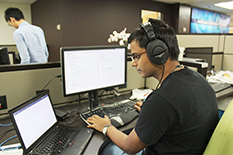 Prince George's, UMD highlight cybersecurity
Gazette.net interviewed ACES sophomore Zhi Xiang "Toby" Lin and ACES director Michel Cukier regarding next generation cybersecurity defense and how to prevent data breaches.
As more and more national retailers deal with the threats of hacking and security breaches, Prince George's County officials are doing their best to stay several steps ahead of the would-be attackers.
"We actually have a full-time team that is looking for vulnerabilities throughout our infrastructure," said Vennard Wright, chief information officer for the county. "The threats are always changing."
Wright said he made cybersecurity his main priority beginning July 1, after discovering the county's network had certain vulnerabilities that may have made it prone to attacks from hackers.
Although the systems has never experienced a data break, Wright said the five-person cybersecurity team now works to ensure the county's practices are in line with industry standards for safeguarding sensitive information such as credit card payment data and health care records."
View the full article at Gazette.net(link is external) written by Alice Popovici(link sends e-mail).
Published October 22, 2014