UMD Students Attend the Annual Grace Hopper Celebration of Women in Computing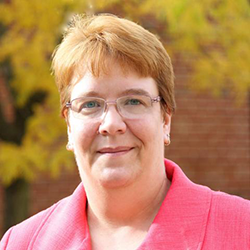 Last week, Dr. Jan Plane, Director of the Maryland Center for Women in Computing(link is external) and the Associate Director of ACES, took 36 students to the annual Grace Hopper Celebration of Women in Computing(link is external) in Phoenix, Arizona.
"When we are at the conference, so much of it is preaching to the choir because you're talking about the importance of increasing the number of [female] faculty," but it also helps build camaraderie with those in similar situations, Dr. Plane said.
The celebration, produced by the Anita Borg Institute, is the world's largest gathering of female technologists and featured speakers like Maria Klawe(link is external), President of Harvey Mudd College, and Arati Prabhakar(link is external), Director of the Defense Advanced Research Projects Agency (DARPA).
With 36 female students in attendance, the University of Maryland made the list of the top ten participating schools in the conference. The students came from either graduate or undergraduate programs in computer science and computer engineering. There was also a group from a non-majors course and Dr. Plane hoped to use the conference as a recruiting tool into the department.
All the students had full funding to the conference from a variety of sources, like funding from internships, Building Recruiting and Inclusion for Diversity (BRAID) funding, Grace Hopper sponsorships and Anita Borg Institute Sponsorships.
"Taking them to this conference is a way to make them aware of this larger picture before they go out into the real world," Dr. Plane said. She expressed the importance of seeing the community at large and how they should be an active part in it.
The conference has the added bonus of a large career fair where some students had job interviews and currently have standing job offers.
The Grace Hopper Celebration came into the national spotlight last week because of comments from Satya Nadella, CEO of Microsoft(link is external), while speaking at the conference.
Learn more about the next Grace Hopper Celebration(link is external) as well as the upcoming Women in Cybersecurity Conference(link is external).
Published October 15, 2014