ACES vs. Maryland Cyber Challenge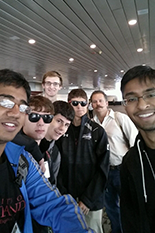 The ACES program sent two teams to the Maryland Cyber Challenge finals, where they competed against six other college teams.
All eight teams were tied for much of the competition with zero points until a team from the University of Maryland, University College pulled ahead with one point at the end to win the competition. No second place prize was awarded at the college level.
Richard Forno, director of the cybersecurity graduate program at the University of Maryland, Baltimore County, spoke to Technical.ly Baltimore about the competition.
"It was very low scoring. The college teams really didn't start scoring until late in the day. They just couldn't get in," Forno said. "That's not a bad thing. That's just the way it was."
An ACES team was highlighted by the Capital News Service in a story about the competition which you can find above.
You can read more about the competition on Technical.ly Baltimore(link is external).
Published November 3, 2014