Five Women of ACES Attend the Grace Hopper Celebration of Women in Computing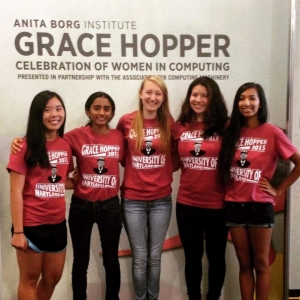 The Grace Hopper Celebration of Women in Computing is the world's largest gathering of women technologists. This year's conference took place in the George R. Brown Convention Center in Houston, Texas, from October 14-16. With its largest numbers to date, the 2015 conference had 12,000 women participants and over 700 speakers.
Five women of ACES joined ACES Associate Director, Dr. Jandelyn Plane and her students from the Women in Computing Center at the University of Maryland in attending the Grace Hopper Celebration this year.
By bringing together women in computing to discuss research and career interests, the GHC has increased visibility for the contributions of women in the field. GHC attendees receive professional development in a variety of areas and participate in networking and mentoring opportunities.
ACES Sophomore Neelima Pradhan said, "I attended a really fascinating talk on artificial intelligence and using deep neural networks and path-finding algorithms to solve real-world problems. GHC also had a huge career fair with over 200 companies, both big corporations and start-ups. Talking to all the companies was very valuable, and the 25 free t-shirts weren't bad either!"
At the conference the women of ACES were exposed to the large and motivating community of women technologists.
Kaman Phamdo, sophomore and Secretary/Treasurer for the ACES Student Board said, "After seeing what cool things people are doing in the field of computer science, I came home feeling very empowered. Even though over 12,000 people attended the conference, the community was super friendly and encouraging. It motivated me to never doubt my abilities, because if I work hard enough I will be able to achieve my dreams."
Also at GHC, the women of ACES got the opportunity to learn more about companies in the industry and took part in networking opportunities that allowed them to get involved.
"Attending the conference gave me an amazing opportunity to interview with companies like Google, Yahoo, Ericsson and Intuit. A week after the conference, I got an offer from Google and I'm very excited to see what's in store for me this summer! Overall, I learned the different sub-fields of computer science, got technical interview practice and met hundreds of bright women in tech from all around the world!" Neelima said.
More information on the Grace Hopper Celebration, is available here.(link is external)
Published November 4, 2015