ACES Students Host a Series of Tech Talks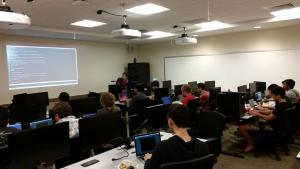 Throughout the semester the ACES Student Board hosts a series of Tech Talks in the ACES Laboratory. Presented by ACES students, Tech Talks provide an informal student-led learning environment and an opportunity for upperclassmen to share their expertise with fellow ACES classmates. Students who attend tech talks gain new skills and form connections with other ACES students who can serve as meaningful resources throughout their academic career.
The most recent Tech Talk was presented by junior, Jeremy Krach. Krach is an ACES Living-Learning Program alumni and will be enrolling in the ACES Minor.
"The tech talk focused on Linux customization and increasing ease of use. I covered some productivity tools, customization techniques, and general tips / "life hacks" to make using a Linux system a bit easier or more comfortable for someone used to working in a purely Windows or graphical working environment," Krach said.
After being well received last spring, Krach decided to give this talk again because it is specifically useful to first year students as they are required to work in a Linux environment for both HACS100 and HACS102.
Earlier this semester Brunel Fangmo and Mahir Yavalkar hosted a Tech Talk on the Raspberry Pi. During their talk they introduced the Raspberry Pi's features and capabilities. Specifically, the team demonstrated the use of GPIO pins to incorporate electronics with the Pi, the Server-Client model and the ability to make constructs with the Pi and an introduction to API's.
"With a future looking towards IoT, it is important that students be able understand how small systems work, how to build them and how to apply them to everyday problems. We chose this topic to make students realize that the security principles they learn should also be applied to small scale systems," Fangmo said.
As the year continues, Tech Talks will allow the breadth of knowledge located within the ACES community to be shared. Students with a particular interest and a desire to share their expertise with fellow students are encouraged to contact the ACES Student Board for future Tech Talk presentations.
Published November 2, 2015