Cybersecurity in Government Contracting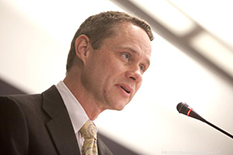 What's the secret to cybersecurity? Here's where Northrop, BAE execs focus their time
Jill R. Aitoro, of the Washington Business Journal, interviewed executives from Northrop Grumman Corp. and BAE Systems Inc. to see how businesses, particularly defense contractors, are protecting themselves from those targeting sensitive government data.
More and more contractors - the biggest defense contractors, that is - are being targeted by hackers to steal or access sensitive information about government programs. So what does a company like Northrop Grumman Corp. do to protect itself?
I asked CEO Wes Bush that question Thursday, at the dedication of a new cybersecurity lab at the University of Maryland that Northrop funded.
"If there's one thing we don't talk about, it's how we protect our network," he told me.
So, I guess that's step one.
View the full article at the Washington Business Journal(link is external) written by Jill R. Aitoro(link sends e-mail).
Published October 6, 2014