The Diamondback Covers ACES Lab Dedication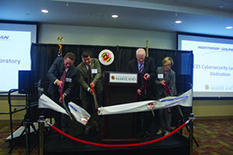 Maryland officials launch Prince Frederick Hall cybersecurity lab
Last week we celebrated the official dedication of the ACES Northrop Grumman Cybersecurity Lab in the newly opened Prince Frederick Hall.
University officials unveiled a new cybersecurity lab in Prince Frederick Hall on Thursday, which they said will further the collaborative relationship between the university and defense conglomerate Northrop Grumman and will give ACES students access to an advanced center for research.
"What this shows, of course, is the power of partnerships," university President Wallace Loh said to the crowd of professors, corporate representatives and members of the Advanced Cybersecurity Experience for Students honors program. "Either partner or perish."
The university launched ACES last fall with the help of a $1.1 million grant from Northrop Grumman. Part of this grant funds the new ACES Northrop Grumman Laboratory in the basement of Prince Frederick Hall, the newly constructed dorm that houses ACES, a four-year living-learning program.
There were high hopes for ACES and the computer lab at the ribbon-cutting ceremony.
View the full article at The Diamondback(link is external) written by Joe Zimmermann(link sends e-mail).
Published October 6, 2014