ACES Featured in The Daily Record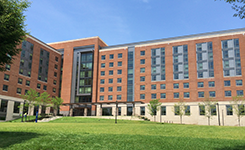 UM's cyber ACES are now in their places
ACES was featured in The Daily Record last week highlighting the program's move to the new Prince Frederick Hall. Opened in August 2014, Prince Frederick houses the ACES and the Design | Cultures + Creativity honors programs.
See the clip of the article below:
"Inside a brand-new, $67 million building at the University of Maryland, College Park, about 120 students are helping bring the state closer to its goal of being "the epicenter of cybersecurity."
A third of the students living in Prince Frederick Hall, a new dormitory that opened this fall, are enrolled in the Advanced Cybersecurity Experience for Students program, which immerses undergraduates in the technical, behavioral and public policy aspects of cybersecurity.
ACES is the university's seventh living-learning program, which means - as the name implies - that students live in the same residence halls as others in their programs and attend many of the same classes.
ACES is the country's only four-year undergraduate honors program dedicated to cybersecurity, according to program director Michel Cukier. It was launched with a $1.1 million donation from Northrop Grumman, which the university matched."
View the full article at The Daily Record(link is external) written by Alissa Gulin(link sends e-mail).
Published September 24, 2014