Northrop Grumman CEO Addresses Maryland Students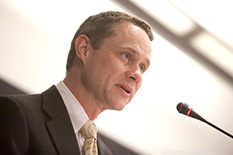 On February 3, Wes Bush, Chariman, CEO and President of Northrop Grumman, spoke to the Robert H. Smith School of Business at the University of Maryland.
In his opening remarks, Bush spoke about Northrop Grumman's relationship with the University of Maryland and the founding of the Advanced Cybersecurity Experience for Students program.
Below is a partial transcription of Wes Bush speaking to the business school, including a portion where he discusses his origins of working with engineering and national security.
"So I'm pleased to tell you that I am learning my way around this campus. It seems like I have the opportunity to be here every few months. I think its a reflection of not only the great relationship that Northrop Grumman has with the University of Maryland, but the growing relationship that we have with this great university.
You know it wasn't that long ago that we got our ACES program started in cybersecurity, and I'd really would like to say thank you to University of Maryland, starting with Brit Kirwan and Wallace Loh and the whole faculty here for making that program work and for making it so incredibly successful.
We're really, really excited about it and we're counting on it, actually. So lets make sure we continue to make it successful."
…
"I'm also delighted that we have a variety of disciplines and majors represented in the audience this evening. We need the skills of business school graduates, of engineering graduates, science graduates, mathematicians, you name it.
So many disciplines are needed for us to fulfill the mission of our company and to continue to support our customer community the way that we need to support it.
So on a personal level while we are here this evening at the business school and today I spend most of my time focusing on business issues, that isn't the way I began my career.
A few decades ago I was an engineering student and I was excited about engineering and thinking about how I was going to make a difference as I was starting my career. And when I graduated from college I made the decision that I wanted to work on problems that were related to defense and our national security. And after several decades of working in this industry, I can tel you that I think it is the most exciting and fulfilling and satisfying industry that a person can work in. I know there are lots of good industries out there, and I've had a chance to work with a number of them over the years, but there really is something special about working in the national security arena and knowing that you are making a difference."
Published February 19, 2015