ACES Student Places Third in National Mainframe Competition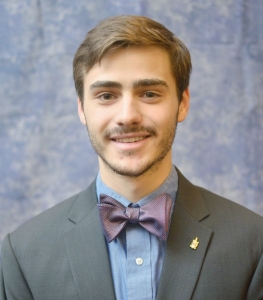 Jeremy Krach, a sophomore in the Advanced Cybersecurity Experience for Students, placed third in the 2014 United States and Canada Master the Mainframe Contest hosted by IBM.
The competitions help students in high school, college and graduate school become interested in mainframes, Krach said. "People don't hear about it much because it is not as flashy and exciting as the other tech fields," even though it remains popular in the workforce, Krach said.
For Krach, the competition offered a different perspective than what he studies at the University of Maryland, including work with enterprise programming and large data sets.
Advertised as a "No Experience Necessary" competition, in the first part, "Breaking the Ice," students downloaded emulators and were shown what the different operating systems do and how to navigate them. Each of the 2,200 winners of the first part received a Master the Mainframe T-Shirt.
The second part, "Practical Experience," exposed students to different programming languages, like Cobol, Java and C. The 75 winners receive IBM sweatshirts, messenger bags, and other items and were invited to move on to the third part.
Once you get to the third level, "they don't really give you a lot of guidance," Krach said. "They kind of say, here is the data we have, give us a bunch of different reports that would interest us as a business and kind of lead us to do our own analysis in a very clean, usable format."
In Part 3, the "Real-World Challenge," students worked on a credit card application that sorts and manipulates data that can benefit real companies. Judges run each of the student's applications to see what they produce in the form of basic daily reports and creating new analysis reports
"A lot of that was writing code in Cobol, which is 40, 50 years old. It's a very old language," Krach said. "So becoming familiar with that language was a barrier that took a lot of time, but as I worked more and more with it, it became easier."
Cobol, as a legacy system, still runs things like credit card transactions and airline scheduling, Krach said.
66 students of the original 4,900 participants competed in the "Real-World Challenge," vying for the top five spots. The IBM lab will host the top five students in New York for two days at the end of March.
You can read more about the competition and the other winners here(link is external).
Published February 12, 2015