ACES Students Attend SFS Job Fair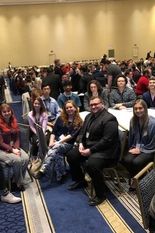 In January, some ACES students had the opportunity to visit the Scholarship for Service Job Fair in National Harbor, MD. Two students shared their experiences attending the job fair with us.
About SFS
The Scholarship for Service( SFS) program at ACES is a scholarship program for students pursuing degrees in cybersecurity or related fields. The program, funded by a National Science Foundation (NSF) grant, aims to increase the number of qualified cybersecurity professionals in the public sector and support the education and training of the next generation of cybersecurity professionals. It provides financial support for tuition and other expenses, and in exchange the recipient is required to work for a specified period in a paid position for a government agency or related organization. The program also provides many other benefits including mentoring, networking opportunities, and practical experience through internships or research projects.
SFS Job Fair
The SFS Job Fair is a unique opportunity for students to not only find job opportunities but also to network with organizations and fellow students. This event provides students with exposure to the interview process and allows them to showcase their skills and abilities in a professional manner. Additionally, it provides students with an opportunity to learn about various organizations, their programs, and new initiatives. This event serves as a valuable platform for the ACES program to network and expand their connections, and for students to build relationships and make connections that could potentially lead to future job opportunities.
2023 SFS In-person Job Fair
This year, the SFS Job Fair was held from January 11-13 at National Harbor and attended by various organizations and companies. The event was held In-person for the first time since 2019.
Antonio Farias is a junior pursuing a Bachelor's degree in Computer Science and a minor in Cybersecurity. He hails from New Jersey and has always had an interest in the field of cybersecurity. He plans to continue his education by obtaining a Master's degree in Computer Science.
Garrett Hill was a part of the 2019 SFS Cohort and has completed the ACES LLP and the ACES Minor. He is currently a graduate student at UMD, pursuing a Master's degree in Engineering (Cybersecurity).
The event started with an opening ceremony on Wednesday evening where attendees heard from different speakers, including government employees, organizers of the fair, and alumni of the SFS program. This was followed by a dinner that was organized for the attendees.
On Thursday, students had their first big day of networking. There were numerous booths representing organizations such as the FBI, CIA, Secret Service, Air Force, Army, DISA, CISA, NSA, NASA, and research laboratories. Antonio and Garrett had the opportunity to talk with representatives and hiring managers about potential internship and job opportunities. Information sessions were also held by the FBI and CISA throughout the day. The day ended with speed networking, where attendees were put into groups and given ten minutes to speak with individuals from different backgrounds.
Friday was a shorter day, starting with breakfast and another round of booths and networking. The session ran until noon, concluding the job fair for the week.

Antonio enjoyed the later sessions of booths and networking the most. He appreciated the ease and efficiency of having meaningful one-on-one conversations with professionals in the field and the fact that the environment was not as hectic as other job fairs. "In addition to the many opportunities presented to me at the fair, it was just a great time to spend a few days in National Harbor. The location was beautiful and there was honestly very little I would change about the experience."
Garrett's highlight of the event was receiving a Summer internship offer. " I spoke with a Cybersecurity and Infrastructure Security Agency (CISA) representative who was very close with my boss from my previous internship, and that rep turned me over directly to one of his team leads to get my information. By that night, I had an offer!"
Preparing for the Job Fair
In preparation for the job fair, Antonio and Garrett made sure to bring copies of their resume, look at the attendee list to note organizations of interest, and write down a few questions for representatives.
"While the event did have an easy way for companies to get a virtual copy, I found that the majority of hiring managers preferred physical copies. A notebook is also extremely important as it can get difficult to remember everything you learned and everyone you spoke with after doing it for several hours in a row," advised Antonio.
"In addition, I found it best to speak with organizations I was interested in the most towards the beginning since I was still full of energy and had my social battery fully charged at that point. The final step I made sure to take was to write down a few questions I wanted to ask every representative I interact with. Having those questions written was extremely beneficial to making sure I got all the important information I needed about any given opportunity." added Antonio.
Garrett made sure to also tailor his resume for different job roles he might be interested in (data science vs software engineering, for example). He also made sure to use resources provided at the event, scanning the WHOVA app that was used for the event and sending resumes to all openings he was interested in.
Lessons
Our attendees learned and gained a lot from this experience. They discovered several positions and internships they wouldn't have heard of otherwise and improved their communication and networking skills through the many hours of speaking with industry professionals.
"These opportunities were not the only thing I gained. I also greatly improved my communication and networking skills. One of the best ways to hone these skills is through experience, and the fair gave me plenty of that. I spent close to nine hours talking with professionals and asking them questions. Very few other events have given me that kind of experience. Not at least without being coupled with another five hours of standing in lines. As a whole, the SFS job fair was an extremely valuable experience and I can not wait to attend it again next year." stated Antonio.
Having secured a summer internship at the event, Garrett had a newfound appreciation for in-person job fairs and the impact they create.
"This was my second in-person fair since 2019, and I can say wholeheartedly that in-person was vastly superior to the digital fairs. What I learned is that networking is hampered across screens, and that being able to fully utilize in-person communication skills (body language, eye contact, etc.) will give me better odds at accomplishing my goals." Garrett explained.

If you are interested in learning more about the SFS program, detailed information can be found on the aces website- https://aces.umd.edu/sfs
Published February 2, 2023