Northrop Grumman Provides a Professional Development Workshop for Students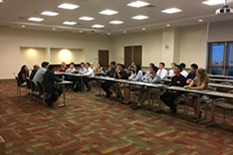 On September 8th, Northrop Grumman Corporation organized a professional development workshop for ACES freshmen. During the workshop, students had the opportunity to attend an internship panel, resume review workshop and security clearance talk.
During the internship panel, ACES freshmen heard from fellow ACES students who have held an internship position at Northrop Grumman. This year's panelists included ACES Senior Bobby Crumbaugh and Sophomores Waruna Yapamudiyanselage and Srujan Thotapally.
Briana Watson, Northrop Grumman College Technical Intern, said, "As the coordinator of the event and intern panel moderator, I was able to oversee the event as a whole. During the internship panel, we talked to the freshmen about not being discouraged to apply for internships. The key is to market yourself in the best way possible and show that you are able to learn new topics. We also discussed the hiring process, and that recruiters are looking for well-rounded students who are involved in activities outside of their academics."
At the security clearance talk, Northrop Grumman employee Kathy Andrews spoke to students about the requirements for obtaining a security clearance.
For the resume review workshop, Northrop Grumman employee Nina Maggio presented resume development tips and shared what content companies will be looking for in student resumes. Following the presentation, eleven Northrop Grumman employees met in small-groups with ACES students to review their resumes and provide them with feedback.
Watson said, "The resume workshop gave students an insight into what hiring managers and recruiters are looking for when evaluating applicants. This station was also a great opportunity for the students to network with industry professionals and make connections early on."
Following the internship panel, resume review workshop and security clearance talk, students and Northrop Grumman representatives networked while enjoying cookies!
Published September 23, 2016