Maryland Cybersecurity Center Welcomes 6 Undergraduate Research Students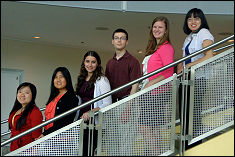 On June 3, 2013, the Maryland Cybersecurity Center welcomed six undergraduate Cybersecurity Scholars to a nine week summer research experience. The scholars will be integral members of research teams, consisting of graduate fellows, faculty mentors, and scholars, and will have the opportunity to learn team skills, project organization and research competencies. Research teams will benefit from each scholar's diverse background, creativity, problem solving skills and fresh perspective.
"I have the questions, but I don't have the answers. The scholars' unique perspectives, motivation and teamwork will prove vital as over the next nine weeks we work together to find those solutions," said Dr. Michel Cukier, Associate Director for Education at the Maryland Cybersecurity Center and PI of the Cybersecurity Scholar program.
Throughout the summer, the scholars will expand their professional network in engineering and the sciences and have access to mentors who will provide support and guidance. The scholars' participation in substantive research will enhance their research confidence and competence and prepare them for future jobs and internships. Through field trips and cybersecurity book talks, the scholars will gain a broad understanding of the field.
"I'm really excited to learn about cybersecurity," said Leah Xu, cybersecurity scholar and undergraduate student at the University of Maryland. "I only know about cybersecurity in relation to the constant hacking and attacks that have been populating the news. As more of our world becomes digitized, cybersecurity becomes increasingly important. However, I don't know much about it outside of popular media so I'm hoping to receive an insider's view."
The experience will conclude with the Cybersecurity Scholar's Research Symposium, where research teams will give presentations on their team activities and research results.
"I have been interested in cybersecurity topics since early high school and was eager to gain hands on research experience in a new area of cybersecurity," stated William Heckert, cybersecurity scholar and undergraduate student at the University of Maryland Baltimore County. "I'm most excited about gaining experience using new tools and working on a project that can have real world impact."
The students will focus on one of three topics:
This program is sponsored by the National Science Foundations and the A. James Clark School of Engineering. Dr. Michel Cukier is the PI of the program.
Published June 5, 2013