Fifty Six ACES Students Earn their Honors College Citation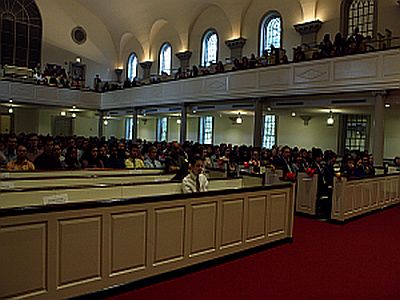 On November 4th, 2016, 56 students in the second cohort of ACES earned their University of Maryland Honors College Citation.
An Honors College Citation is an academic distinction and acknowledgement of participation in one of Maryland's Honors College Living-Learning Programs. Students who earn a Citation wear special cords at commencement and have the Citation noted on their academic transcript. To receive a Citation, students successfully complete their course requirements and have a cumulative GPA of 3.2.
This year's ceremony began with a welcome from Dr. Susan Dwyer, Executive Director of the Honors College. Following her introduction, students selected for scholarships and grants were announced. These included the Barbara L. Thorne Honors Study Abroad Scholarship, the Honors College Research Grant, the Honors College Family Endowed Scholarship Awards and the Portz Outstanding Honors Student Awards.
Toby Lin, ACES Senior, was selected as the Portz Outstanding Honors Student for the ACES Program. The Portz Outstanding Honors Student Award honors an upperclassman that demonstrates leadership and notable contributions to their living-learning program.
Following the awards, Professor Hoda Mahmoudi, the Baha'i Chair for World Peace spoke and received the Outstanding Honors Faculty Award. The ceremony concluded with a musical interlude by Potomac Winds and the presentation of Honors College Citations to all students.
ACES Junior and former Student Board President Greg Bekher said, ""It was an honor to receive my citation and stand with my ACES LLP colleagues once more. It felt great to be recognized for our hard work over two years and positively mark this chapter in our education. Congratulations to my fellow ACES LLP alumni who stood with me, and hope that they will continue to do great things in their last two years at Maryland."
Several ACES corporate sponsors attended the Citation Ceremony, including representatives from Leidos, MITRE, NSA, Parsons and Secunetics.
Congratulations to all 56 ACES students that earned their citation! We look forward to your future accomplishments.
Published November 11, 2016