Dr. Plane Provides Experiential Opportunities for Students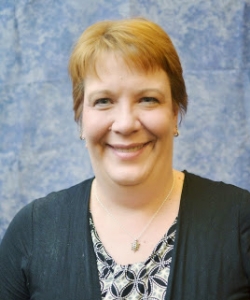 ACES Associate Director Dr. Jandelyn Plane continues to make great strides in increasing diversity within the computing fields. Her participation in the recent Sonia Kovalevsky Day at Montgomery College and the CyberPatriot Competition has provided numerous ACES students with the opportunity to gain meaningful experience outside of the classroom.
On November 15th, Dr. Plane and three women of ACES, Rachael Zehrung, Kinsey Smith and Katherine Woods, conducted presentations at Montgomery College for Sonia Kovalevsky Day.
Sonia Kovalevsky Day is a program of workshops and competitions for female middle and high school students held at colleges and universities throughout the country. The purpose of SK Day is to introduce young women to computing, and to assist in their transition from middle school to high school mathematics.
On SK Day, Dr. Plane ran several presentations on robotics. After several ACES students helped construct the robots, the middle school girls at SK day participated in a number of challenges using the robots.
"The response of the girls who get their robots to do what they want them to do is contagious. They clap, screech and hug their partner when accomplishing the task after several failed attempts. It is so great to see that much excitement and learning taking place," Dr. Plane said.
The women of ACES who attended SK day with Dr. Plane assisted with the workshops and provided support to the middle school girls throughout the activities. ACES Junior Katherine Woods also ran a lunchtime program on cybersafety and cybersecurity. ACES students will also be accompanying Dr. Plane to the next SK Day in February.
Additionally, this past Sunday in the Northrop Grumman ACES Laboratory, Dr. Plane ran a CyberPatriots Competition for four teams from two local high schools with the help of ACES freshmen George Hughey, Chris Lai, Aravind Ramakrishnan, and Steve Sakol.
In CyberPatriots competitions teams are given a set of virtual images that represent operating systems and are tasked with finding cybersecurity vulnerabilities within the images and hardening the system while maintaining critical services in a six-hour period.
Published November 24, 2015