ACES Students Participate in the FCL Program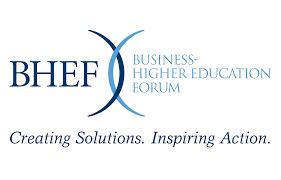 This summer ACES students Bobby Crumbaugh, Ryan Eckenrod, Max Grable, Christian Johnson, Matt Long and Waruna Yapamudiyanselage participated in the Future Cyber Leaders Program.
The FCL Program is managed by the Business-Higher Education Forum and funded by the Office of Naval Research. In this year's pilot program, Northrop Grumman Corporation, Parsons Corporation and Raytheon Company each selected 10 of their interns to participate in the FCL Program cohort.
Throughout the summer, FCL interns met on a weekly basis to learn about various cybersecurity topics and network across companies. Participants got the opportunity to develop their leadership skills and gain exposure to different areas of the cybersecurity community. The FCL program also allowed interns to network with their peers and leaders in cyber defense contracting, and establish a professional network across the participating companies.
Bobby said, "A highlight of the FCL program was watching live demonstrations of cyber exploits from various company demos. The most memorable was the exploit of a SCADA system presented by the team at Parsons. Another major highlight was attending the BHEF symposium where we got to hear the CEO of Northrop Grumman Corporation, Wes Bush, give a speech and talk with us throughout the day's activities."
Matt said, "I really enjoyed our first networking experience in downtown DC. We met on the national mall and were placed into groups to do a scavenger hunt around the city. I also enjoyed one of the sessions at Northrop Grumman where we participated in a competition to secure a system. We were given the results of a Nessus vulnerability scan and were told to fix as much as we could in the time allotted."
Christian said, "A personal highlight for me was when Wes Bush hosted the BHEF summer forum at the NGC McLean office. I had the opportunity to learn "spear phishing" working alongside Wes Bush."
Max said, "During the program we visited the headquarters of BHEF and the facilities of the three participating companies. At each facility we were briefed on the companies operations. It was nice to get perspective on other companies and to see a bigger picture of cybersecurity."
Following their graduation from the FCL program, ACES students noted the impact of the FCL program on their personal and professional development.
Waruna said, "Academically, I was able to learn about how to approach and solve cyber vulnerabilities, and to work in a team to protect networks through demonstrations and hands-on activities. Professionally, I was able to meet employees from other companies and even reconnect with one of the Vice Presidents of Parsons where I had worked prior to Northrop Grumman
Bobby said, "Being involved in the FCL program most profoundly impacted my network among the three lead defense contractors, but also among peers in the industry. I have made several friends and future contacts that would have been impossible without the FCL program."
Christian said, "FCL was a great way to interact with other professionals directly without being a part of their company. It provided an inside look at how other professional cyber organizations are operating, and gave us the opportunity to ask questions and understand where the cybersecurity market is trending. It was also great opportunity to expand my professional network among my cohort members and with BHEF members."
More information on the FCL program is available here. (link is external)
Published August 17, 2016