ACES students attend diversity in computing conferences throughout fall semester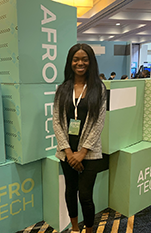 Throughout the fall semester, ACES Students have multiple opportunities to attend a variety of conferences. These conferences help them to network with professionals in their field, as well as to encourage students to develop as technologists, leaders, and entrepreneurs.
The ACM Richard Tapia Celebration of Diversity in Computing (Tapia 2019) was held in San Diego, California from September 18-21 of this year.
Each year, the Tapia conference urges undergraduate and graduate students, faculty, researchers, and professionals in computing from all backgrounds and ethnicities to come together. The conference encourages its participants to celebrate diversity in computer, create communities that extend beyond the conference, obtain advice from computing leaders through presentation and conversation about academia and the computing industry.
This year, the theme of Tapia 2019 was "Diversity: Building a Stronger Future." Under this theme, the conference operated under the objectives of reminding attendees of the critical role diversity has in industry innovation, as well as looking toward a brighter, stronger future based in coalition and community.
Students who attended Tapia 2019 participated in professional development and lab workshops, panels, career fair exhibits, and presentations from speakers in the computing field. These presentations included Plenary Keynotes Stephanie Lampkin, Founder and CEO of Blendoor and Jennifer Mankoff of the University of Washington.
ACES Students Katie Sullivan, Lucia Kim, Immanuel Garcia, and Srivarshini Parameswaran attended Tapia 2019.
Sullivan ('22), a computer science and Spanish literature and culture student in the ACES Living Learning program, attended the conference on a scholarship from the Iribe Initiative for Inclusion and Diversity in Computing.
"I'm glad I was able to attend Tapia because I got the opportunity to interview with several companies and even receive an internship offer while at the conference," Sullivan noted, of her experience. "I also got to network with industry professionals and other students. Additionally, I got the chance to sight-see around San Diego."
Later in the semester, on October first through fourth, ACES students attended the Grace Hopper Celebration. Held by AnitaB.org, GHC is designed to bring together women in computing to discuss research and career interests, make connections, and--just like its name promises--celebrate women technologists.
During the conference, students participated in a number of interactive sessions from leadership workshops to effective inclusion initiatives presentation to speed mentoring networking opportunity. Additionally, attendees could attend technology information sessions about specific research interests, such as Artificial Intelligence; Computer Systems Engineering; and Virtual, Augmented, and Mixed Reality, among others.
Part of the 2019 celebration's allure comes from its Open Source Day, an opportunity for students to develop humanitarian projects using open source software (OSS), a skill that is increasingly becoming a promising--if not necessary--resume-builder.
ACES Students who attended included Shannen Lam, Lucia Kim, Desiree Abrokwa, Abbie Tran, Lauren Kosub, Rachel Walter, and Iris Hu.
Rachel Walter ('20) is a former member of the ACES LLP pursuing a degree in computer science with a minor in women's studies. Though she attended the conference in previous years, Walter found this year to be just as rewarding.
"Going into this year I really wanted to focus on attending workshops rather than searching for jobs," Walter stated. "This allowed me to dive deep into topics that marry my love for computer science with my minor in women's studies (including inclusive design practices and educational technology). It was so exciting to see how technology is created and used to make the world a better place!"
Shannen Lam ('21), a computer science major pursuing the ACES Minor, was a first time attendee at GHC this year. She describes the conference as a "surreal experience."
"I went to the Grace Hopper Celebration because, despite UMD being really good about supporting diversity in computer science, I still felt like moments of female pride in CS were hard to come by," said Lam. "Attending GHC allowed me to build that network of female role models and learn from their stories."
"The conference brings people from all walks of life together that all have the same goal: to empower female voices in computing roles. I think it's unbelievably beautiful that so many people agree on one thing when it's easier to find differences than similarities between people," she additionally noted.
Most recently, ACES Student Miracle Agyapong represented UMD at the AfroTech conference, taking place from November seventh to the tenth.
AfroTech is conference for Black techies, startups, and entrepreneurs. The conference markets itself as groundbreaking and revolutionary, boasting over 10,000 attendees from across the United States, building a community to scale Black power in culture, innovation, and tech. AfroTech seeks to inspire young Black professionals and technologists, letting them recognize that they are not alone in a white- and Asian-dominated field.
The conference allows students to choose from three tracks within the conference: entrepreneurship, leadership, and engineering/design. Within these tracks, students attend hands-on sessions as well as informative discussions and career fair exhibitions that connect them with leaders--and other students--in the field.
This year the conference featured 60 speakers, including John Zimmer, co-founder and president of Lyft; Angelica Nwandu, founder of The Shade Room; and comedian, podcaster, and television personality Hannibal Buress.
Agyapong ('20) is an information science and technology entrepreneurship student pursuing the ACES Minor. The sole student representing ACES at the conference, she attended AfroTech to bolster her personal and professional journey.
"I chose to go to Afrotech to network with other entrepreneurs; however, the conference exceeded my expectations," said Agyapong. "I was able to build connections and learn tactics and strategies that will not only help me grow my business but also help me grow in career and personal matters."
Published November 18, 2019