ACES Minor Student attends National Society of Black Engineers Annual Convention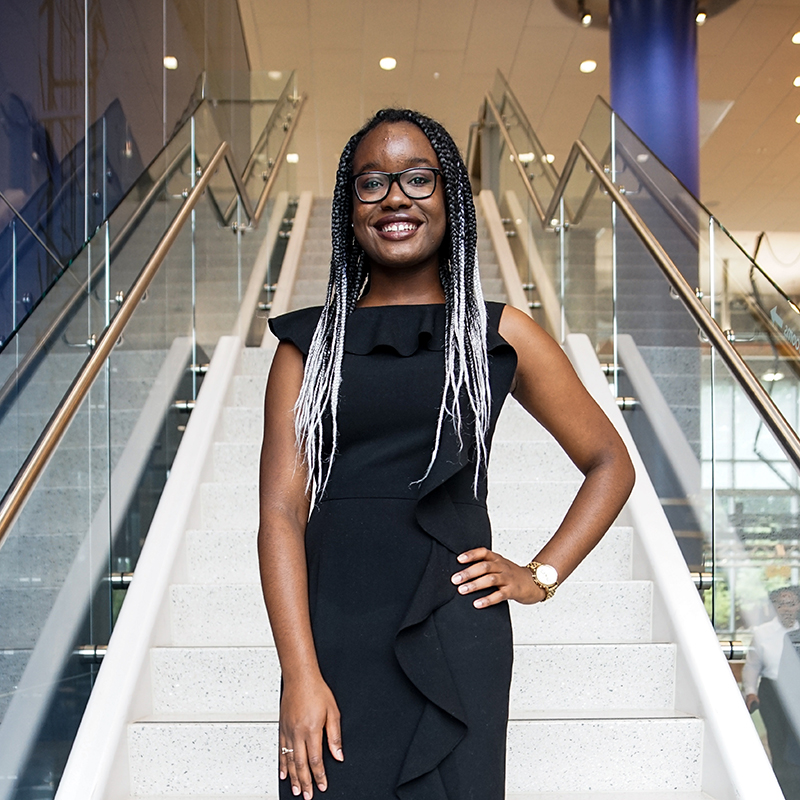 Last week, Dana Wiggins, an ACES Minor student, attended the National Society of Black Engineers' (NSBE) 45th Annual Convention in Detroit, Michigan. There she joined more than 13,000 other attendees, from grade school students to college students to STEM professionals.
Dana, a junior computer engineering major, joined the Honors College as a member of University Honors when she first attended UMD. As a Youth STEM Director for Remnant Center for Excellence, Dana was able to visit Northrop Grumman, where she was "amazed" by what she saw.
Dana says, "I was particularly intrigued by the cybersecurity department, as those sector professionals were able to apply the latest in cyber-deterrent tools to further secure the equipment our military heroes use to protect our freedom."
This experience opened her eyes to the world of cybersecurity and its many facets. She chose to join the ACES Minor to take advantage of its curriculum. She says, "[It] provides the means for me to enhance both my technical skills and my policy interest in cybersecurity to possibly serve my country in the future."
NSBE has given Dana an outlet to share those skills and the knowledge that she's gained. She chose to get involved with NSBE because she "fell in love" with its mission: "to increase the number of culturally responsible Black Engineers who excel academically, succeed professionally and positively impact the community."
Through her involvement with NSBE, she uses her technical background to inspire younger generations at monthly Technical Outreach Community Help programs.
Dana is also a Senator on the Executive Board for UMD's local NSBE chapter called Black Engineers Society (BES). She traveled to the NSBE Convention in her role as a Senator for BES, where she voted on behalf of the local chapter. She also participated in the hack-a-thon while she was there.
She hopes that current and future ACES students will take full advantage of the professional development events that ACES hosts each semester. She says, "Take advantage of all of the incredible opportunities ACES provides to engage and interact with industry professionals. These opportunities will not only help you build your network, but also prepare you for the shift from college to the industry."
Published April 3, 2019