ACES Director and Associate Director Attend Fort Meade Alliance Event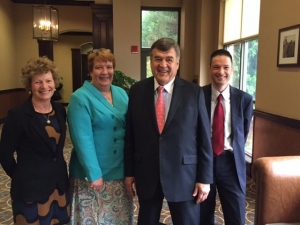 On May 4th, Fort Meade Alliance held a lunch event featuring a conversation between Congressman Dutch Ruppersberger and Northrop Grumman Corporation Chairman, President and CEO Wes Bush.
ACES Director, Dr. Michel Cukier, Assistant Director, Dr. Jandelyn Plane and Honors College Executive Director, Dr. Susan Dwyer were invited to attend the discussion.
Moderated by Fort Meade Alliance President Steve Tiller, the conversation focused on topics of government, cyber and federal spending. Congressman Dutch Ruppersberger and Wes Bush shared their thoughts on the economy, the Fort Meade region's strengths in government contracting and cybersecurity, and the impact of federal spending trends on the region.
Read more about Fort Meade Alliance and the event here(link is external).
View live tweets from the May 4th FMA event below:
Published June 9, 2016