ACES 'Capture the Flag' Competition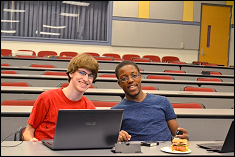 While the rest of the campus slept in on Saturday, April 12, 2014, ACES students gathered in the main lecture hall of the Computer Science Instructional Center (CSIC) to participate in a trial run of the ACES "Capture the Flag" competition. What started as a friendly test run quickly turned into a heated competition among friends. With each submission, the scoreboard flashed between different names. It wasn't long before two students, Jeremy Krach and Andrew Liu, broke ahead of the pack.
Created by ACES students Franz Payer and Kevin Bock, the ACES "Capture the Flag" competition included five categories: JavaScript, Forensics, Cryptography, Trivia, and Recon. JavaScript challenges were offensive and tested one's ability to manipulate websites to bypass their poorly constructed code. Students also had a chance to test their ability to recover information by practicing Forensics challenges. For the Cryptography challenges, the students had a chance to learn about interesting ciphers and codes by decrypting messages. Students encountered challenges ranging from simpler ciphers, such as the Pigpen and Caesar ciphers, to more advanced methods of encryption, like affine and hex encoded text. The Trivia challenges had questions broken down into four categories: Ports, Hackers, History, and Current Events. Recon challenges tested one's ability to use a wide variety of Internet resources to obtain information about different targets.
Students were given two hours and forty minutes to complete as many challenges as possible, with the goal of getting the most points out of everyone. As the competition neared the final minute, Sydnee Shannonpulled ahead of Jeremy. But with only forty seconds left, Jeremy jumped into the lead by completing a valuable "hard" challenge in the JavaScript category.
Sydnee Shannon, runner up, explained, "The challenges build on each other so that students without any skills could learn and build on new skills as they completed each challenge." Students were forced to step out of their comfort zone, but Franz and Kevin were always there to assist. Jeremy added, "I thought it was a fun event where people from ACES who had experience with these kinds of competitions and those who didn't could come together and learn in the same environment."
Franz and Kevin's future plans include conducting outreach events in high schools in May and hopefully taking the competition to other universities. They plan to build a massive learning database of challenges for students to experience 24/7. Both found the first launch to be a great success with Kevin stating, "I was very happy that everyone tried hard and was so open to learning new topics. We got a really good turn out and it was a great trial run". Franz concurred and added, "I am glad that everyone seemed to have learned a lot from the different challenges. Everyone gained something from competing."
Despite a few minor spelling mistakes and submission problems, twenty-one students solved over 2,000 challenges, wondering when they would get to participate in the next "Capture the Flag" event.
Published April 14, 2014