ACES Associate Director Receives Grant Aiming to Diversify Computing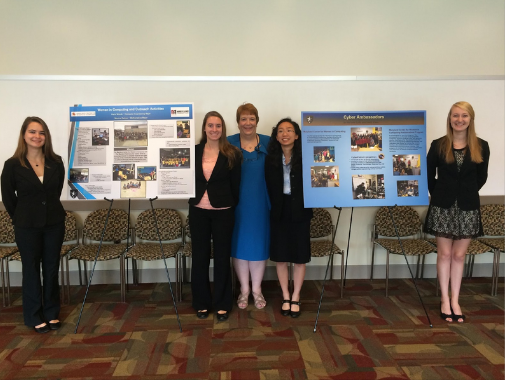 With newly award grant, ACES Associate Director Jan Plane continues to work for opportunities for women and underrepresented communities in cyber.
Associate Director for ACES Jan Plane, alongside Kate Atchison, Assistant Director for the Maryland Center for Women in Computing have been awarded a multi-million-dollar grant from Break Through Tech.
Break Through Tech is an organization that works at the intersection of academia and industry to propel more women and underrepresented communities into technology education and careers. The organization's goal is to achieve gender equality in tech.

UMD's Break Through Tech program will be led by Plane and Atchison and administered by the Iribe Initiative for Inclusion and Diversity in Computing in partnership with the iSchool.

"Break Through Tech's programs and the expansion of our existing programs will greatly increase impact toward improving computing education and successful degree completion by a greater diversity of participants," said Plane, according to the official announcement. In addition to her role at ACES, Plane acts as the director of the Iribe Initiative for Inclusion and Diversity in Computing and director of the Maryland Center for Women in Computing. Plane is also a principal lecturer in the Department of Computer Science.
Through curriculum innovation, mini internships and professional networking, the organization operates with the goal to increase the number of women graduating from UMD with a degree in computer science or information science by at least 12% by 2026.

Among other benefits, UMD's Break Through Tech program will include: a summer program for rising first-year students designed to ignite interest in tech by teaching them how to code real-world, mission-driven applications; new, innovative introductory computer science course sequences; a paid, three-week mini-internship (called a Sprinternship®) program, which gives first- and second-year students a resume credential and real-world experience to make them more competitive when applying for a paid summer tech internship; and the development of a networked community of individuals who identify as women and non-binary—both peer-to-peer and student-to-professional—in the D.C. metro area to support, engage and motivate one another.

See the official announcement here.
Published March 8, 2021