$1.1 Million from Northrop Grumman to Create Honors Cybersecurity Program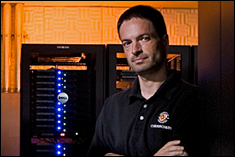 Starting in the fall of 2013 the Honors College launched University of Maryland's newest living learning program, the Advanced
Cybersecurity Experience for Students (ACES). ACES is designed to not only introduce students to the technical and non technical aspects of cybersecurity, but to set the foundation for them to be future leaders in this important emerging field and meet the growing needs in the nation and state.
ACES will enroll 45 students each year, and offer an intensive, interdisciplinary, accelerated curriculum in key technical, policy, behavioral and social science components of cybersecurity. To meet the need of a cyber enabled workforce, ACES students will live together, use embedded, state of the art laboratories and work closely and collaboratively to gether, inside and beyond the classroom.
UMD Matches Northrop Grumman Grant
Northrop Grumman provided $1.1 million to launch the program and support it for two years. The University of Maryland will match that amount. ACES will continue to benefit from intensive and sustained involvement from Northrop Grumman, including in depth, ongoing industrial participation. The program plans to have courses offered together with Northrop Grumman and host guest lecturers throughout the year. Students will also visit the facilities of the nation's leading provider of cybersecurity services. Northrop Grumman plans to offer opportunities for ACES students to participate in a continuation of their coursework via internships.
"The ACES program represents Maryland at its best. This unique partnership between Northrop Grumman and our flagship campus demonstrates Maryland's leadership role as the epicenter of cybersecurity."
Maryland Governor Martin O'Malley
Dr. Michel Cukier, the Associate Director for Education of the Cybersecurity Center at the University of Maryland, has been named the program's inaugural director. Dr. Cukier hopes that ACES will attract a diverse group of students who have a variety of interests and different backgrounds. "I am working hard on changing the image of cybersecurity ... the interface is the computer, but [cybersecurity] is a human problem" said Cukier.
As a national model, ACES addresses existing shortfalls in cybersecurity education and helps reverse national trends by increasing the number of students in STEM fields. ACES will serve as a new prototype for preparing students in an emerging, interdisciplinary field that requires practical application and real world experience. "We will educate the best students in cybersecurity and we will educate them as leaders and not technicians," Cukier said. "Companies will be competing to hire these students."
For more details see Advanced Cybersecurity for Students
Published December 23, 2012