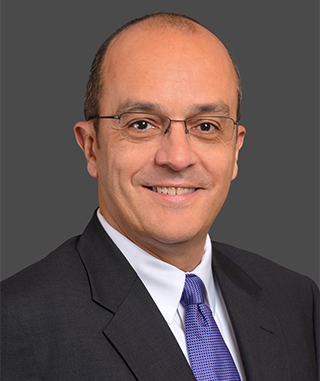 Lecturer
During a career spanning nearly four decades, Mr. Pinto-Coelho held a variety of engineering, program management, business development, and executive management positions in companies operating in both the federal and commercial markets.
Mr. Pinto-Coelho began his career as a systems engineer at Westinghouse Electric/Northrop Grumman in the company's advanced airborne radar organization focused on research and development (R&D) of airborne active apertures. He held program management roles during which he led the company's successful capture of avionics development contracts (radar and distributed electro-optical aperture system) on the F-35 program. He also led the efforts to incorporate air-to-ground modes into the F-22 radar.
Mr. Pinto-Coelho held senior management positions at Aether Systems where as product manager he led the development and successful launch of two wireless financial products. While at Aether Systems he also led the company's merger and acquisition activities as well as management of its $150M venture capital arm. Mr. Pinto-Coelho held systems engineering, program management, and business development roles at the Raytheon Company where he led the integration of the DCSG 10.2  system into the Joint Improvised Explosive Device ( IED) Defeat Organization's analysis center. He also led the business development team in the non-Department of Defense (DoD) markets. At Alion Science and Technology, Mr. Pinto-Coelho shared profit-and-loss (P&L) and business development responsibilities as the deputy group manager for a $65M group. He also had full P&L responsibility for a $25M operation in the intelligence market.
Mr. Pinto-Coelho held a senior program management position at NCI Information Systems where he led an Acquisition Category (ACAT) IA program through a successful full operational capability (FOC) milestone of a unique analytical capability for an  intelligence community customer. At Leidos, Mr. Pinto-Coelho was the technical director of the cyber and signals intelligence operation. In this position, he was responsible for leading skills development of the technical workforce, engagement with  technical leaders in the customer community to understand current challenges and discuss new technologies to address emerging challenges, development of solutions to the customers' mission challenges, and management of an annual R&D budget of  $2 M. He was also the lead system analyst on an FBI contract to develop capabilities for the bureau's covert operations section.
Mr. Pinto-Coelho retired in April 2019 and returned to the University of Maryland to pursue research in social cybersecurity and obtain a Ph.D. degree with Dr. Michel Cukier, professor of Reliability Engineering and Director of the University of Maryland  cybersecurity honors program. Mr. Pinto-Coelho's dissertation topic is the susceptibility of online communities to influence. Mr. Pinto-Coelho holds a Bachelor of Science in Biochemistry and a Master of Science in Chemical Engineering, both from the  University of Maryland.
Top