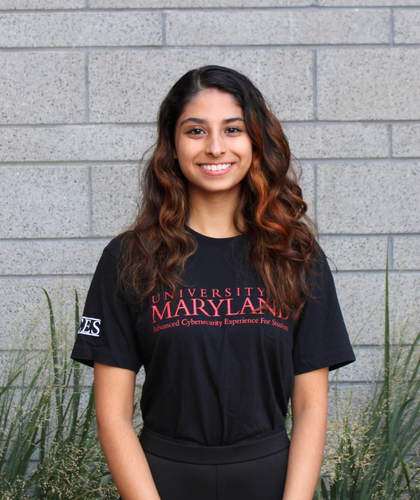 Education Chair
Harshita Kalbhor is a second-year Computer Science major and Astronomy minor from Clarksburg, Maryland. Drawn to ACES by their in-depth cybersecurity courses, Harshita is intrigued by how cybersecurity influences the world of politics, private sector development, and critical infrastructure. She hopes to learn more about how to minimize and potentially quantify risk. Harshita joined the ACES student board because she wanted to make a positive impact on campus and be a voice for her peers. She believes that, as a part of ACES board, she will be able to advocate for student needs, address concerns, and work towards creating a better college experience for everyone. 
Outside of ACES, Harshita is a member of the mechanical team at
Robotics@Maryland
. She has a passion for robotics and loves to tinker. Harshita is also an experienced violinist and hopes to take a music course or join the campus orchestra in the future. She also enjoys painting and baking.
Fun Fact: Harshita's dorm walls are decorated with her own paintings! Feel free to ask about them anytime!
Top